How better roads can help in war on terrorism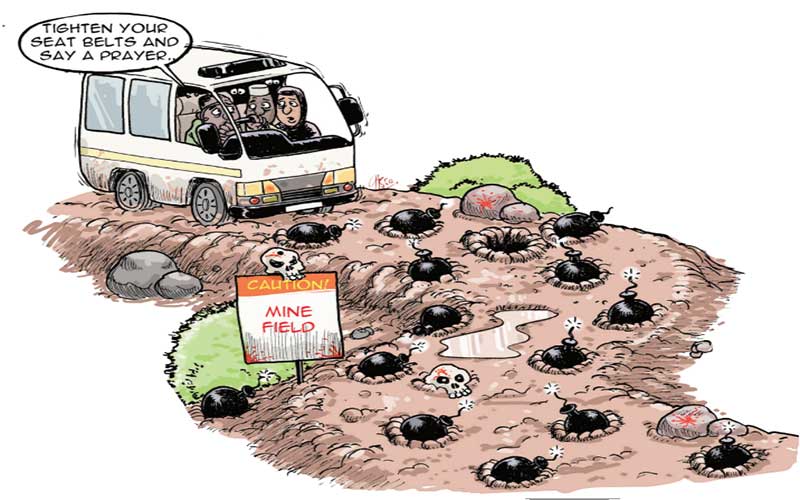 Transport infrastructure - roads, railways and airports - have always been a major component of state-led 'development' in Kenya.
However, since the era of President Mwai Kibaki (2002-2012), there has been a new impetus to the belief that infrastructure stimulates not only national development but also regional integration.
The regional network of the Lamu Port South Sudan-Ethiopia Transport Corridor (Lapsset) is the grandest of these infrastructure projects. Lapsset includes an oil pipeline linking Lamu with the oil fields of South Sudan; a super highway connecting to Ethiopia and South Sudan; an international airport; and a resort city.
Part of Lapsset has come to fruition but major components still remain in doubt due to the geo-politics of the region. However, the transformation is quite evident from Nairobi to Moyale. The Thika Superhighway-Isiolo-Moyale Highway (part of the Great North Road expected to go all the way to Ethiopia) have been the poster images of this large scale infrastructure development.
The tarmacking of numerous other roads and highways across the country have continued apace. Beside the national government, counties have also anchored their development on various road projects.
From Machakos Governor Alfred Mutua's 'fastest built highway in Africa' to Turkana county's first ever tarmac road, roads not only represent this desire for connectivity and integration but also animates politics at various levels.
The Isiolo-Moyale Highway is one of the undisputed success story that has been able to achieve both connectivity and, to a certain extent, integrationist goals. Before the tarmacking of the highway, travel was an unbearable but necessary ordeal.
From the border town of Moyale to Nairobi, a distance of about 800 kilometres, passengers used to take three days on the back of trucks carrying livestock and navigating bumpy, dusty and during the rainy season, muddy terrain. Often, armed bandits lay in wait, ambushing vehicles to rob and sometimes kill passengers.
Thanks to the Isiolo-Moyale Highway, the journey from Moyale to Nairobi now takes about between 10 to 12 hours by bus. Private cars take even shorter time. Apart from reducing travel time, incidents of bandit attacks on this highway have disappeared.
The 'Shifta War'
Banditry on the Isiolo-Moyale highway is connected to the history of the Shifta insurgency between 1963 and 1968 in the former Northern Frontier District (NFD). Once NFD's diplomatic campaign to secede from Kenya failed, including a plebiscite commissioned by the British just before independence, an insurgency broke out in the north.
Secessionist guerrilla fighters, or Shifta, as the Kenyan government labelled them, covertly backed by Somalia engaged the nascent Kenya Army in an undeclared war that came to be known as the Shifta War.
Intelligence records from these period at the Kenya National Archives are full of reports of how Shifta rebels frustrated the Kenya's military army by deploying landmines along the dusty and muddy NFD roads. The Isiolo-Moyale road recorded one of the highest number of landmine incidents.
More recently, in the early 2000s, the Oromo Liberation Front carried out several landmine attacks along the Marsabit-Moyale highway.
Al-shabaab
The Al-shabaab terrorist group currently waging attacks against Kenya demanding a pull out of the Kenya Defence Forces from Somalia lays its ambushes on dilapidated roads that are reminiscent of the Shifta insurgents and OLF tactics.
Since 2012, a year after KDF's invasion of Somalia, the terror group has deployed landmines on major highways in Lamu, Garissa, Mandera and, a few days ago, in Wajir counties. From the Shifta war to the contemporary times of terrorism, untarmacked and dilapidated roads have been used by different actors to undermine the operations of state security.
Could the situation have been different had these roads been tarmacked? Put differently, can more tarmacked roads aid Kenya in consolidating peripheral and underdeveloped regions like the north and the Coast and reduce incidents of insecurity?
Isiolo-Moyale Highway could be useful for demonstrating an affirmative answer: in its current tarmacked state, it is hard to imagine mine warfare being an attractive option for any group simply because mines on tarmacked roads are overtly discernible.
Any mines on this highway can easily be sidestepped as compared to mines buried underneath dirt roads. Also, due to the eased mobility and frequent police and army patrols, the general security situation along the highway and nearby areas has improved greatly.
This is why it is not too farfetched to argue that the tarmacking of road networks can be a deterrent for terrorism. Additionally, some accidents involving military vehicles due to bad roads can easily be avoided on better roads.
The recent landmine warfare in these parts is a brutal reminder of how the past neglect of these areas continue to be an existential problem for the Kenya State, but the new impetus in infrastructure development offers some glimmer of hope.
Mr. Kochore is a PhD candidate at Max Planck Institute for Social Anthropology in Germany. [email protected]