Kenyans should be freed from political slavery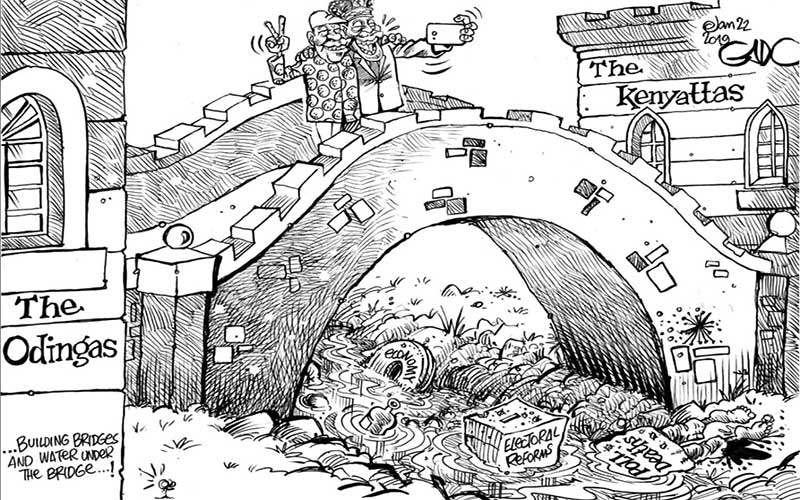 The year 2019 has been an extremely difficult one for Kenyans. How I wish we could have a better 2020, and indeed prosperity in the new decade.
Importantly, we are today facing myriad challenges that are almost becoming insurmountable. First is the high cost of living index. Kenya has witnessed spiraling inflationary trends in the recent past that have eroded not just disposable incomes, but also the purchasing power of the average consumer.
This has in turn impacted negatively on both the marginal propensity to save and invest, thereby impeding both economic growth and net social welfare of the Kenyan people. Majority of Kenyans can barely afford basic subsistence. This is a tragedy of epochal dimensions.
Second, we continue to witness wanton runaway high level corruption in the country, within the national and county governments. The country is under siege by shadowy corruption cartels that are mercilessly looting public funds. Yet the response we witness amounts to no meaningful end result but mere lip service on the anti-corruption war.
No tangible action against corrupt entities and individuals is forthcoming, save for sham and cosmetic Friday arrests followed by court appearances. My humble submission is that the people deserve to see real action manifested by commensurate convictions and subsequent asset recovery.
Insatiable lust
Third, our public debt continues to spiral to alarming levels. Today, Kenya's external debt stands at Sh9 trillion. We have become a borrowing nation at national, institutional and individual levels. Perhaps we are the world's top in the pecking order of Fuliza nations. Our insatiable lust and appetite for debt will lead to increased taxation at all levels, resulting in debilitating economic mesh and stagnation.
Fourth, millions of Kenyan youth are languishing in abject poverty and hopelessness occasioned by high unemployment levels. This is informed in part by a declining manufacturing sector that under sane circumstances would have been a catalyst in wealth and employment creation.
Regrettably, we are witnessing irredeemably declining performance levels in the productive sectors of the Kenyan economy coupled with foreign capital flight. Worryingly, the political class appears uninterested in addressing the problems afflicting the common citizen; instead opting for the preoccupation with amassing wealth and premature agitation of change of the Constitution to ensure political preservation and personal aggrandizement. Most Kenyans are not even adequately sensitised on Kenya's 2010 Constitution.
Why don't we first do a candid evaluation of the implementation status of our 2010 Constitution to determine the milestones realised, challenges faced, implementation gaps, lessons learnt and emerging issues that can then objectively inform constitutional changes, if any?
Forging unity
What is the urgency in unilaterally rushing to the radical conclusion that we need a constitutional change that is not informed by a technically feasible position? Is our problem really a bad constitution or lack of enforcement and political goodwill? I dare say that indeed, egocentric politicians are taking the joke too far, and they need to be stopped in their tracks.
To save our beloved country from the current economic morass and political quagmire, Kenyans need to collectively and individually embark on forging unity of purpose. They should adopt issue-based politics devoid of personality cults and vindictiveness, passionately fight corruption, impunity and forces of state capture.
Kenyans must discard the retrogressive culture of negative politics built around ethnic enclaves and tribal chiefs, embrace a new crop of leaders imbued with integrity and morality and chart a new political order aimed at bringing sanity within our national political fabric and economic emancipation from the siege of the current political set-up.
We need a leadership anchored on people-centric values and the principles of good governance, characterised by accountability and responsibility in management of national resources and equitability in distribution of national wealth.
We need a leadership that upholds inclusivity; enforces zero-tolerance to corruption; observes social justice; and recognises human rights guided by the rule of law. The new political order must espouse participatory leadership driven by agents of real change, not rogue politicians.
Kenya must, therefore, speak to itself. We need to have an honest discourse about the future of our beloved country. We need to discuss the Kenya we want. Unless we realise full political, economic and social emancipation, it is not yet Uhuru! Over to you, Kenyans; the decision is yours.
Mr Owalo is a Management Consultant specializing in Strategy' formulation, implementation and control.