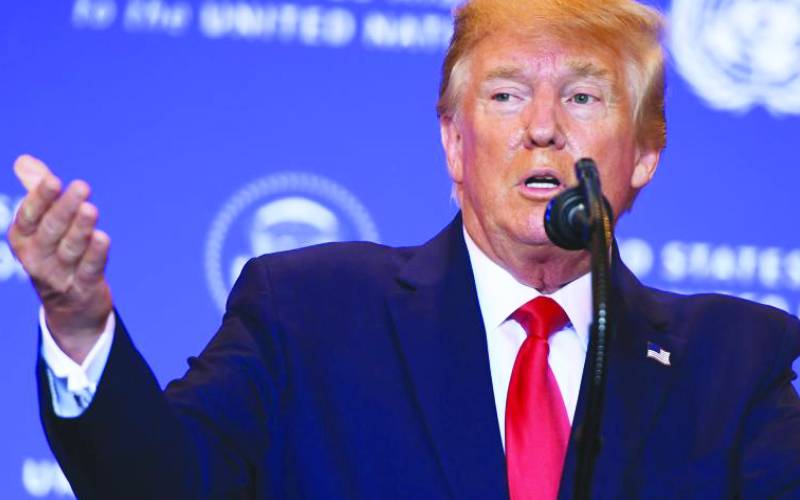 The triumph of President Donald Trump (pictured) over Senator Hilary Clinton in the US elections was never welcome in Kenya. It took all of us by surprise.
Perhaps we were too "connected" with democratic Obama to expect a diametrically opposite President.
Trump won by going against the grain, being controversial in words and deed. He studied American psyche and appealed to it. While some of the statements he uttered appeared controversial, they excited the average American. It is no wonder academics rarely make successful politicians, they can't connect with the average citizen.
Conspiracy theories apart, a slowdown in the economic performance during Obama era sent Democrats home. The rebounding of the same economy may prolong Trump's stay in the White House. The fact that he won the Electoral College but not popular vote and his unconventional approach to politics has made him unpopular with Democrats. Perhaps they feel their victory was snatched from them.
On Wednesday, the US House of Representatives voted to impeach President Donald Trump. It was all expected. But it's not yet a done deal. We should not celebrate his impeachment. In fact impeachment could end up helping Trump get a second term.
I am not a lawyer but the two counts on which Trump is being impeached are bordering politics more than legalism. He is accused of obstructing the Congress, read parliament by refusing to cooperate. He did not give documents and refused his aides to testify. That was a smart move. Why release evidence that might be used against you? Remember ICC?
The second count is more interesting. It is alleged that Trump pressured Ukraine to investigate his presidential rival Joe Biden and his son for questionable business deals in Ukraine. It will never be known if this was Trump's plan to smear political dirt on his rival or a clever move to shift blame for 2017 polls interference from Russia. To me, Ukraine looks more like a political decoy. And by impeaching Trump it has worked.
Both counts are political minefields. Which aides would have testified? Which documents were to be turned over to Congress? Which aides and documents were privileged? On Ukraine, bringing in his private lawyer muddles the waters more. There is no doubt Russia is smiling at this drama.
The impeachment opened up another side of USA that should have been kept off from public eyes and her allies. It is the deep involvement of political establishment in business beyond the American borders, in countries we never thought of like Ukraine.
It also let out the leverages the US uses to project power and influence like weapons sale. One question that left me agape is how the US influences less powerful countries particularly in Africa. Of interest is that USA seems to target countries on "transitions" like elections to exert her influence, when the country is fluid and unguarded. Americans play long game.
Back to impeachment. It will be as partisan as in the Congress. The Republicans will not let down their president. Trump will go free. Then the road to 2020 will start with drama thereof. I look forward to 2020 USA presidential campaigns, more for entertainment than anything else.
Trump has already opened the front accusing Democrats of treating his impeachment like the trial of the witches of Salem where 30 people were hanged accused of practising witchcraft in Massachusetts, USA from 1692-93. What's the evidence of witchcraft? Others are likening his impeachment to that of Jesus.
If Trump goes free and he will, he will launch a full scale war on Democrats. They will have nowhere to hide. You have not heard anything yet. Trump's re-election will not be based on verbal attack only. He has a secret weapon, the economy.
Data shows the US economy is doing well. It was Democrats soft underbelly in the last election. Never mind the economic good times Republicans are enjoying have origins in policies of Obama era. By portraying Democrats as obstructers of Trump's good work, Democrats will find it hard to fight back. Impeachment was Democrats' last weapon in their arsenal. What else can they do to Trump?
After surviving impeachment, Trump has nothing to worry. If you have taken a bull to slaughter house and let it escape, you know how hard it is to recapture it.
You may not like Trump; he says what an average American wants to hear. He has no time for niceties. He has shaken the American political establishment to the core. Impeachment gives him the high moral ground to do more. And he could have four more years.
Trump's boldness in projecting American power, both political and economic particularly in confronting China could lead to his second coming, politically speaking. And it seems he has able followers. Did you see how Boris Johnson silenced the Labour Party? Johnson background including his journalism career has all the hallmarks of Trump's controversy. Can you recall Trump saying Johnson would make a good prime minister? Remember Johnson was born in USA.
Unless you have nothing else to do, do not celebrate Trump's impeachment. Instead sympathise with Democrats. Let's talk after November 2020 USA polls.
One final question; what is the likelihood of Kenya getting a Trump or Johnson? Unlikely, we are all moving to the centre, the politics of extremism has lost its lustre. Finally, forget impeachment for now and enjoy Xmas. My hunch tells me Trump will be on the political stage longer than many want. You better get used to him - and I am not a Republican!
-The writer is an associate professor at the University of Nairobi.