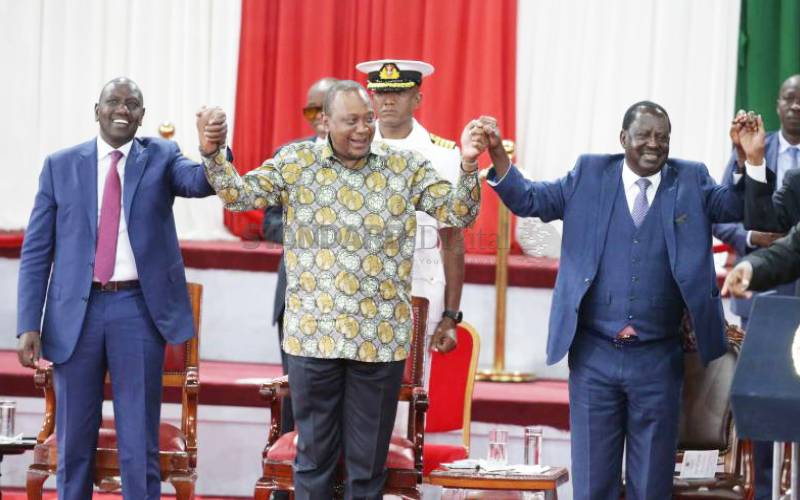 A stranger following Kenyan politics would be forgiven for thinking that the country can only accommodate two political parties with no room for a third.
The Rainbow movement of 2002 was a coalition of two dominant parties from the Kikuyu and Luo communities and a smattering of others. They won the elections.
The Government of National Unity that followed the elections of 2007 was a power-sharing arrangement between the Kikuyu and the Luo.
Jubilee administration is mostly composed of the Kikuyu and Kalenjin. At each formation, communities not represented at the helm of the country's leadership have cried foul and sought for inclusivity.
Read More
Building Bridges Initiative (BBI) was mooted to, among others, create that environment of inclusivity so sorely lacking from independence days.
It was touted as the silver bullet that would put an end to ethnic divisions and the resultant fractious confrontations after every election cycle. But is it?
For starters, old established polities always use ethnicity as a means of advancing and perpetuating their hold on government.
They sow divisions, stoke tribal resentments and exploit prejudices in an "us versus them" narrative designed to preserve power on the "us" side of the equation.
Then there is the artful manipulation of obscure rules and institutions to guarantee a hold on power. Successive regimes have almost unilaterally appointed commissioners to electoral bodies to do their bidding. Often times, it has been at the expense of free, fair and credible elections.
The BBI seeks answers to these issues yet the thorniest of them have already been canvassed by the current constitution.
The simplest rules, like regional balance in appointments to State offices, are not adhered to. Nor are those to do with political hate speech, electoral violence and heavy-handed reprisals by State agents against elements deemed to be against those in authority.
Government officials have, in some instances, disobeyed court orders, showing scant regard for the rule of law. It is inconceivable that people with this mind-set would have a damascene conversion and overnight become model politicians. This then leads to the question; what is the real purpose of the BBI?
Some schools of thought posit that BBI is a dump valve for pressure brought on by a tanking economy.
They see it as a diversionary mechanism to take citizens' minds off current economic crises and to blind voters from seeing through the chicanery of aloof, incompetent and self-serving leaders.
Another school of thought says the BBI is about managing the tensions that might result from the unemployment crisis, mass retrenchments and constraints in personal circumstances of many Kenyans.
Seen in that light, the BBI would be a band-aid on a festering wound; a poor salve for the vast majority who will not even read through the over 100 pages that it comprises.
Instead, they will wait for their preferred politician to break it down into an interpretation that aligns with their political aspirations.
Former Prime Minister Raila Odinga, Deputy President William Ruto and President Uhuru Kenyatta are the men to watch.
As leaders of their ethnic blocs, they hold the keys to Kenya's next government, whether by election or endorsement. In the days to come, they will leverage on the BBI debate to win the hearts and minds of the electorate.
Already, there are contestations, fronted by them, on whether the BBI should be subjected to Parliament or a national referendum.
Mr Kenyatta is serving his second and final term, but he has indicated that he is not averse to serving as a PM, should the BBI create such an office.
Mr Odinga is a four-time presidential election loser. He may take fifth stab, with the blessing of the president with whom he enjoys a cozy relationship. Dr Ruto will be making his first attempt for president.
Political parties in Kenya are not founded on ideologies that are inviolate, but on personalities that create cult following.
These parties use ethnicity as their building blocks and create alliances with other ethnic groups towards a defined political end. Ruto appears isolated from the other two. He looks like the crowd in a company of two.
But tribal alliances are transient and change with every wind of doctrine. The BBI debates of the early part of next year will determine which alliances hold and which ones become crowded out of the 2022 race for president.
That, in the view of many, may be the essence of the BBI.
Mr Khafafa is a public policy analyst