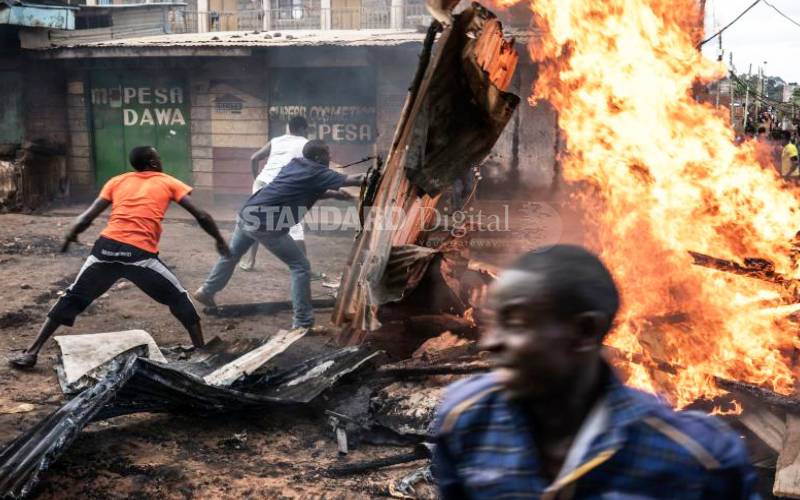 A few days ago, I was engaged in a heated conversation about electoral violence and was a bit alarmed at all the reasons that were being given to justify the same.
These are justifications we have heard before. Indeed, these are no different from those offered to justify violence during previous electoral cycles.
Sadly, my concerns were seen through the lens of the Kibra vote, even though I first shared such concerns weeks before the poll date. These are concerns which many have echoed, and which I have raised whenever appropriate.
This point must be underscored as it demonstrates clearly that the concerns of most Kenyans are not about any single election.
Read More
Kenyans are concerned about the risk posed by political violence, as it tends to cause a dangerous escalation in politically-instigated hostilities.
Furthermore, it is important to point out that political violence is a legitimate concern that most Kenyans have.
If political violence was not an important issue, Kenyans would not have asked President Uhuru Kenyatta and Rt Hon Raila Odinga to reconcile their differences.
If political violence was not a concern, there would have been no need to initiate a national conversation around unity and reconciliation.
That these events transpired suggests that political violence is something that all Kenyans want to see brought to an end.
My faith
As Kenyans, we should therefore be mindful not to reduce the discussion around political violence to narratives that justify an escalation of hostilities. Yet this is what we have done, and appear to continue to do.
Now, I realise that my opinion may be at odds with some higher political objectives that I am not aware of. This may have a lot to do with the fact that I have decided to take a principled and uncompromising stand against all forms of violence.
Yet I must explain. I have not taken this stand to be difficult or to cause trouble – for Kenya's leadership, for people close to me, for other Kenyans or, indeed, for myself.
I have taken this principled stand against violence because I am convinced that this is the right thing to do. This stand is also informed by Kenya's electoral history; by the values imparted to me by my faith; and my parent's upbringing.
In taking this principled stand, I am mindful of the need for us to engage one another in a constructive manner.
For I do appreciate that none of us have exactly the same perspective, even on things we agree on. In that regard, we must genuinely respect the opinion of others – particularly those holding a different opinion from ours.
That said, I must point out some conduct that I find disturbing. There seems to be an increasing tendency to belittle or demean those who offer opinions that raise genuine concerns about the risk of violence.
Conflict resolution
This tendency to demean does little to advance the cause of national unity and cohesion. What it ends up doing is to shut down meaningful debate. It stops us from focusing on the issue at hand and instead turning on one another.
When we then turn on one another, we play up our differences beyond what is sensible. Having created new divisions through needless wrangling, we then reach the wrong conclusions about what to do next.
For we then mistakenly believe that we must suppress all opposing viewpoints. This may be one way of handling the challenges of diversity. Yet the body of knowledge on democracy, leadership and conflict resolution suggests that this is the wrong approach to take. If we truly want to build a more cohesive country, we must avoid excusing bad political conduct – be it intimidation, violence or heavy-handedness.
And all political leaders must demonstrate commitment to our national values and principles – as espoused in article 10 of the Constitution. Moreover, our leaders must not only preach peace, they must practice it. And a good place to start is for them to always speak out against political violence.
Finally, we cannot build a truly cohesive nation through fear, intimidation or violence. This brand of politics will eventually destroy Kenya.
For, if we as Kenyans live by the sword, we shall surely die by the very same means. We must put an end to political violence before violence puts an end to Kenya.
Mr Karanja is a management consultant specialising in strategy and change management.