How to put our wobbly economy back on track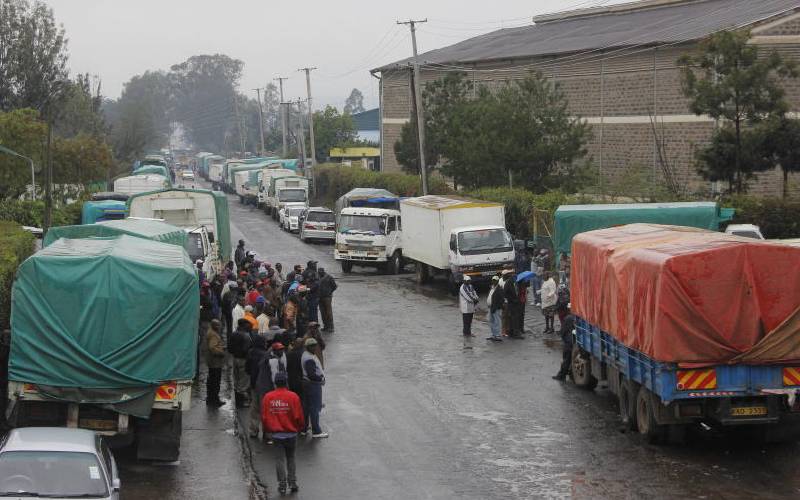 As a grassroots leader, I have come face to face with the grim suffering of many hardworking Kenyans.
The "hakuna pesa kwa uchumi" phrase is now common in every discussion in towns and villages. Layoffs and downsizings, closure of small and medium enterprises and multi-national companies' subsidiaries relocating to South Africa and Ethiopia spells doom for the future of our economy.
It worries more that IMF has lowered Kenya's economic forecast from a GDP growth rate of 6.3 per cent in 2018 to 5.8 per cent in 2019.
Detrimental policies have made much smaller economies to export basic commodities like eggs to Kenya.
The youth, who make up 70 per cent of our population, have always been ignored by policymakers despite the fact that they are the most important, energetic, innovative and aggressive.
Apart from investment and focus on technical training, there is no other disruptive policy shift toward this group of people.
They can be a blessing or a curse, depending on how they are handled. Without playing the devil's advocate, I regret to say that we are treading on dangerous grounds as far as youths are concerned.
With proper policies and investment on youths, Kenya can achieve a two-digit economic growth quickly.
The competition between the State and Kenyans to borrow domestically has further complicated our growth prospects. Most financial institutions prefer lending to the Government instead of the citizens because of the high risk involved while lending to the latter.
This has further been complicated by the interest rate cap which has made banks to tighten their rules, resulting to depressed credit access.
In every economy, the Government is the sole biggest business partner. Therefore, Government spending is an important tool for managing the economy. Unfortunately, national government ministries, State corporations and counties are yet to pay contractors and suppliers four months into the 2019-20 Financial year.
This has crippled contractors' operations with some having their assets auctioned as attested by newspaper advertisements.
Frustrating devolved units out to access funds from the National Treasury also has far-reaching effects on the rest of the country; more so businesspeople and residents in terms of delayed service delivery. These are just but a few reasons why the economy is heading south.
But solutions to our economic woes can be found. First, policy-makers should accept that there is a problem which needs fixing.
At the tail end of President Mwai Kibaki's administration, there existed a serious think-tank consisting of successful businesspeople, accomplished CEOs and senior government officials known as the economic and social steering committee that gave practical and accurate advice to the Government on the state of the economy and possible remedies without exaggeration. This team should be constituted again so as to accelerate return of the economy to normalcy.
The latest crackdown by the taxman and the Directorate of Criminal Investigations to collect revenue from owners of already failed businesses is akin to setting a trap in the air expecting to net a rat.
That notwithstanding, the taxman under collected revenue by a whopping 32 per cent during the first quarter. This is a worrying trend. Had Kenya Revenue Authority collected revenue as is required, then we probably wouldn't need to raise the debt ceiling to Sh9 trillion from the current Sh5.8 trillion.
Tax holidays
Secondly, the Government should avoid local borrowing like a plague to ensure better credit accessibility. Thirdly, a drastic policy shift favouring the youth and women start-ups, provision of tax holidays and incentives to businesses that generate certain number of jobs can also be another sure way of putting the economy back on track.
That said, I wish to laud President Uhuru Kenyatta for standing firm to ensure that the interest cap is lifted so as to improve credit accessibility. In the past three years, household lending growth rate has reduced from 30 per cent to 8 per cent, according to a World Bank report, while loan portfolios for MSMEs has reduced from 15 per cent to 6 per cent. This is extremely worrying and a pointer to the poor performance of the economy.
As it is, it is almost impossible for mama mboga to get a Sh10,000 loan from any bank. This forces them to resort to expensive unconventional credit from shylocks.
Lastly, the National Treasury should take deliberate measures to simplify payment processes for suppliers and contractors to ensure they are paid in less than two weeks.
Mr Rotich is an Economist and current Deputy Governor of Elgeyo Marakwet County