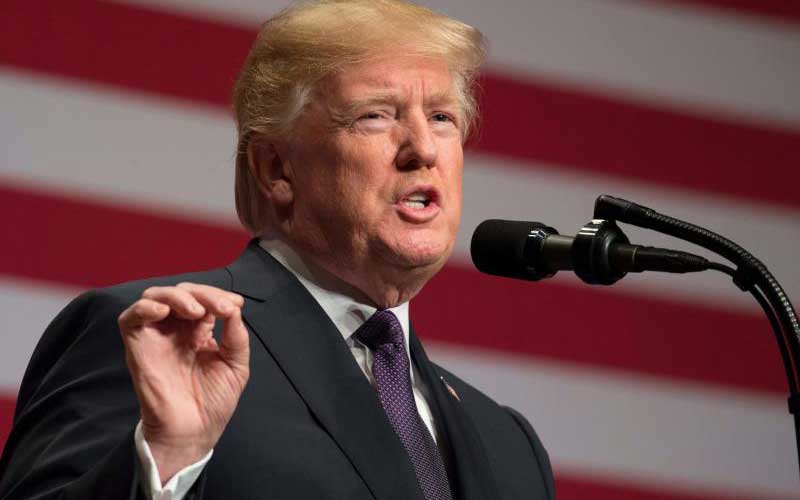 The recent announcement by United States ambassador Kyle McCarter that US President Donald Trump (pictured) will be cutting down on foreign aid to Kenya came as a surprise to many of us.
We have been somewhat dependent on aid for so long that the thought of losing it is quite nerve-wracking.
The US government gave Kenya Sh57 billion in 2017-18, which was reduced by Sh7 billion last year. This year, they are expected to give Sh37 billion for disease control, with further decreases projected in the future.
The US government originally created the President's Emergency Plan for AIDS Relief (PEPFAR) as a way to combat the HIV/AIDS epidemic all over the world. It has been working in Kibera since 2003 to administer TB and HIV/AIDS treatment and preventative care.
Read More
About 25,000-29,000 people in Kibera are part of a health surveillance system funded by PEPFAR that collects information every month.
On average, 416 people test for HIV/AIDS each month. Alongside Mozambique and Uganda, Kenya has the fourth highest prevalence in the world. These statistics may seem jarring, but we need not be discouraged.
The situation has actually improved dramatically in recent years, thanks to Kenya's pioneering in preventative success. We were the first in the region to begin providing PREP medication to at-risk individuals. We were one of the first countries to ground break voluntary medical male circumcision, which has led to a sharp fall in the amount of new HIV cases each year.
Thus the proclamation by McCarter that there would be a reduction in US aid is actually an expression of confidence in our achievements, not a gesture of ill will by the US president.
Though it might be frustrating to think that there will be less aid cash flow into government health programmes, it does not mean that our government will be investing in them less or reducing their importance.
Quite on the contrary, in fact. Healthcare seems to very high on President Uhuru Kenyatta's priority list, which we have already seen in the Big Four Agenda. While the Big Four aims to achieve universal healthcare for all, pilot programmes in four counties have already proven a success and will be replicated in counties nationwide in the coming months.
But special public health programmes are also needed to address various health issues, such as the HIV/AIDS epidemic. And As McCarter noted, we have the situation under control. There are now fewer outbreaks because preventative medicines are widely distributed and subsequently more and more effective. A greater number of Kenyans are aware of prophylactic measures and living healthy, disease-free lives.
And we have Uhuru's leadership to thank for that. The US ambassador's trust not only in what we have achieved with public health, but also our capabilities moving forward, are a testament to Kenya's success at positioning itself as the intermediary nation between Africa and the rest of the world. We are not victims here, we are not needy.
God has blessed us with steady and powerful development and the time has arrived for us to help others.
During Uhuru's administration, we have shifted quite rapidly from being a state that is very much reliant on international aid, to one that leads East Africa in all that we do.
As we experience fewer disease outbreaks, the Kenyan population will generally become healthier and rise out of poverty. The vicious cycle of disease-poverty-disease, which prevents not only those sick, but also their family members, from working, is being broken.
But the reduction of reliance on wealthy Western countries, combined with increased self-sufficiency, means that we are leaders in other areas of governance as well.
The Kenyan government opted for the KDF to lead the African Union coalition in Somalia. The brave men and women in uniform on the ground fighting terrorism are something we can be very proud of. Gone are the days when the UN or US-led coalitions called all the shots, shaped state-building and set up new governments in our region.
In East Africa, we are the determiners. Uhuru has positioned Kenya so that when there is a problem that requires help or cooperation from a foreign power, we are the first country in the region that sets the course going forward. In this new era of international relations, I am relieved to be a Kenyan.
Mr Mugolla comments on topical social political issues