As it prospers, China will not leave Kenya behind
COMMENTARY
By Wu Peng | October 1st 2019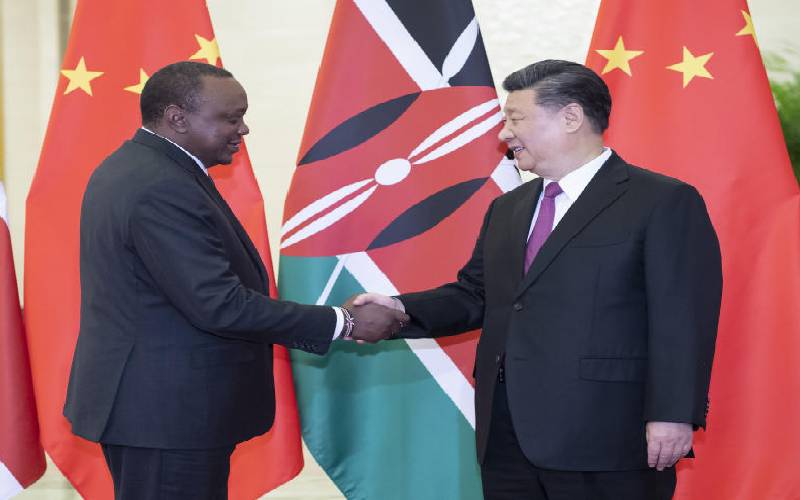 As we celebrate the 70th anniversary of the founding of the People's Republic of China (PRC), I hail the 56-year-old robust China-Kenya relations. Just as China has come afar, the partnership between the two peoples has overcome many challenges and is headed to even greater prosperity.
Both China and Kenya were subjected to aggression and colonisation by western powers. On October 1, 1949, Chairman Mao Zedong proclaimed the founding of the PRC. During that year, Jomo Kenyatta, Kenya's founding president, was leading the Mau Mau Movement and Kenyan people on the road to national sovereignty. In 1963, when Kenya finally gained independence, China and Kenya established diplomatic relations days later. In 1978, China adopted the reform and opening-up strategy and signed a trade agreement with Kenya.
Over the past 70 years, China has risen from a struggling agriculture-based economy to the world's second largest economy. Trade and economic co-operation between China and Kenya has reached unprecedented levels.
Since I was accredited to Kenya in March this year, I have felt the depth and width of China-Kenya friendship and co-operation. I am touched most by some simple comments, such as "with your projects you've never disappointed us" on a post of the Embassy's Facebook page, which is about a Chinese company successfully completing the transmission line for the Lake Turkana Wind power plant, hailed by the Kenya Government as the "Engineering Magic in Kenya's History", in a record six months.
I am delighted to hear stories of how Chinese companies actively leveraged their equipment and human resources to help local communities. China WuYi Co. invested over USD20,000 and 508 hours of labour to build six water ponds to help about 3,000 residents secure water for their households, farming and animals. China International Water & Electric Corporation built water reservoirs and donated diesel-powered pumps and generators to benefit 1,200 residents in Bubisa.
I am impressed to learn that even Kenyan staff in Chinese companies are also involved in social responsibility.
Indeed, the strong and fruitful China-Kenya partnership is vividly demonstrated by over 100 major projects developed jointly by both countries in the last 56 years. Some of the most outstanding projects over this period include the Moi International Stadium in Nairobi, Thika Superhighway, Mombasa to Nairobi Standard Gauge Railway (SGR) and the Nairobi to Naivasha SGR which will be launched soon.
As of May 31, 2019, the second anniversary of the passenger train, the Mombasa-Nairobi SGR had transported 300 million passengers and 440,000 TEU of cargo and maintained a safe operation record of 731 days. SGR carries with it the century-old dream of the Kenyan people and provides a fast lane to growth and prosperity for the region. As one of the early success stories under the BRI framework, SGR is a clear demonstration of the value generated by China-Africa industrial co-operation.
Co-operation between China and Kenya is not defined by the SGR alone. Other projects by the Chinese side include laying of high-speed internet connectivity by Huawei and industrial upgrading.
For years, China has been one of Kenya's top trading partners and a major source of foreign direct investment. In 2018, China's non-financial direct investment in Kenya has witnessed double-fold increase to about USD520 million.
Today, more than 400 Chinese businesses operate in Kenya, creating nearly 130,000 jobs for the local people. These companies have played an important role in accelerating advancement of the Big Four agenda, Kenya's development blueprint by President Uhuru Kenyatta.
China is currently helping Kenya to grow her economy through value addition of agricultural products. The two sides have recently signed a couple of agreements to give preferential access of Kenya's agricultural products in the vast Chinese market.
With mutual understanding and support on many international and regional issues, the two countries continue to expand and deepen their co-operation. The China-Africa Joint Research Centre and China-Kenya Laboratory for Crop Molecular Biology were established in Kenya. In 2019, over 180 Kenyans were awarded Chinese government scholarships to study in China.
It has been seven decades of relentless progress despite trials and tribulations for China. Led by the Communist Party of China, China has cultivated a middle-income population of over 400 million and lifted some 800 million people out of poverty. By the end of 2020, China will have taken all rural residents out of poverty, putting an end to absolute poverty in the country and creating a miracle in the human history of development and poverty reduction.
A moving-forward China will continue to boost bilateral exchanges and co-operation at all levels, to go along with Kenya in achieving industrialisation and modernisation, and to bring tangible benefits to the people of both countries while striding towards a shared future.
Mr Peng is the Chinese ambassador to Kenya