Why Uhuru should join world in climate change fight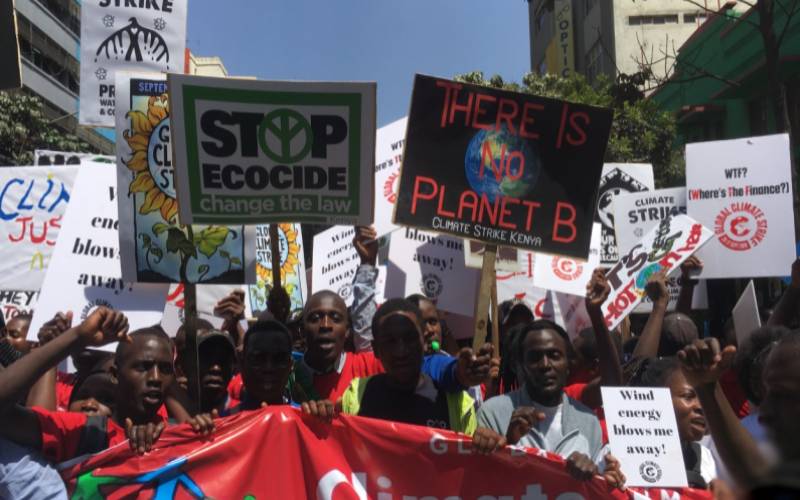 This week, hundreds of thousands of people and government leaders are headed to New York for the Global Climate Action Summit organised by the UN Secretary General (UNSG) Antonio Guterres, to address the global climate emergency and spur greater action on climate change.
The summit is a global moment convened to reflect on the sheer urgency of needed action. The meeting is the start of a journey that takes us through the December 25 United Nations Climate Change Conference (COP25) in Santiago, Chile and COP26 in Glasgow next year.
Meanwhile, global climate protests inspired by 16-year-old Swedish teenager, Greta Thunberg raising global awareness of the risks posed by global warming and climate change, took to the streets on September 20 to call for greater climate action.
Against the backdrop of record-breaking extreme weather, we have had the hottest July. Wildfires are raging from the Amazon to the Arctic. In February this year, a fire high on the slopes of Mount Kenya charred almost 20,000 hectares of land and killed wildlife within Mount Kenya National Park.
Earlier this year, tropical cyclone Idai – one of the worst tropical cyclones on record to affect Africa – experienced south of the continent, redirected moisture away from the East Africa region.
This delayed the March to May long rains affecting the planting season in Kenya. With about 98 per cent of Kenya's agricultural activities rain-fed, climate change is a major threat. This includes realising the government's Big Four Agenda and the Vision 2030 goals.
Global commitment
Recent threats of drought are among the things anticipated by the World Bank's Kenya Economic Update report to drag down Kenya's real gross domestic product growth in the near-term.
To reduce further effects of climate change, world leaders, through the Paris agreement, committed to holding the increase in global average temperature to well below 2°C above pre-industrial levels while pursuing efforts to limit the temperature rise to 1.5°C.
To keep the global temperature rise within the safe threshold of 1.5°C, the Paris agreement requires countries to submit their revised Nationally Determined Contribution (NDC) by 2020, a critical year for climate ambition.
The current global commitments already place the world on the trajectory towards a 3°C warmer world. The 2018 landmark UN report on the science of 1.5C global warming concluded that Africa will continue to experience increased temperatures and unpredictable rainfall. Africa cannot afford a hotter world than it is now.
Guterres has been clear – he wants a new kind of climate leadership – not just words but action at all levels to address the climate emergency.
He has called on leaders to come to New York with concrete, realistic plans to enhance their NDC by 2020, in line with reducing greenhouse gases emissions by 45 per cent over the next decade, and to net zero emissions by 2050, as called for by the IPCC report.
Guterres also wants leaders to commit to no new coal plans after 2020, to taxing pollution and ending public money promoting fossil fuels. These demands are the basic first steps to take to decarbonise our world.
Having been invited to attend, President Uhuru Kenyatta must join other Africa nations in demanding the developed countries to raise their ambitions to reduce emissions and phase out the fossil fuel investments. As developing countries leaders, President Uhuru should ensure the countries do not lock themselves into a dark future by investing in coal power plants.
Clean energy
The good news is we don't need to follow the same old development path that worked for developed countries during the industrial revolution. Those countries shackled themselves to polluting industries which turned their cities black with smog, spoiling their rivers and air. China has seen similar domestic problems from rushing too quickly into similar coal covered present that they are now trying to reverse.
Africa has not yet become mired in fossil fuel addiction. If we are clever, Africa can take this opportunity to leapfrog the old polluting fossil fuels that were cutting edge in the 1800s and make use of the clean, cheap, renewable energy that will power the future. In the same way, we Africans have leapfrogged the need for old fashioned landline telephones and embraced the benefits of cell phone technology, with the right leadership, we are poised to do the same with our energy systems.
Africa has as much solar, wind and geothermal energy as anywhere else on earth. None of which causes the kind of health problems, both for the human body and our precious climate, like coal.
We want President Uhuru to join other leaders united behind the science and commit to build on our existing efforts and deliver plans including stopping the planned Lamu coal plant and committing to zero carbon by 2050.
He must also demand of the rich historical polluters the money and investment to help shift our country onto a greener path and a more resilient future.
Adow is a leading climate change expert from Kenya