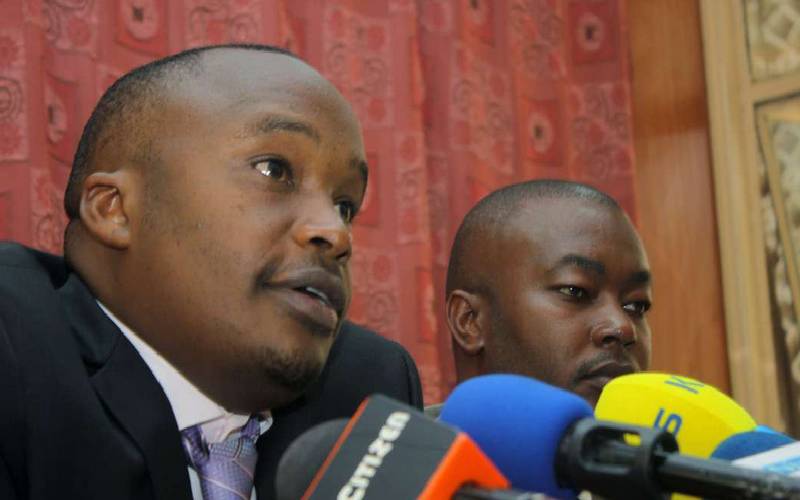 I read a news article last week in The Standard titled, "MP wants workers retired at 50, not 60". The story was later unpacked in an editorial titled, "Reducing retirement age won't cure malaise of unemployment". I hold a different view from that of the editorial.
No, family responsibilities should not part of the reason you should be allowed to work until the age of 60.
Picture this. Your daughter has been unemployed from the time she earned her undergraduate degree. Your son has done everything in his power to get a job unsuccessfully.
You are currently in charge of a department. At 50, you have reached early retirement age, but you are not willing to give way. You say you still have the energy and are wiser now more than ever.
You leave your house five days a week, even six, to serve your employer whom you have been serving from the day you earned your first degree.
At 50, you qualify for retirement benefits. I suggest you retire so your juniors can get promoted and your desperate 27-year-old son or daughter, who lies idle in your house, can join the workforce too.
And it doesn't have to be your son or daughter. In Kenya, 73 per cent of youths are unemployed. You will be rewarded in heaven for promoting upward social mobility.
Vacancies do not avail themselves. Government creates vacancies and individuals do the same. But for now, the Government is stuck and short of ideas.
Please retire and enjoy your pension. You can even start a consultancy firm in your specialty if you must work until 60.
I like how you get jittery when I ask you to hang up your boots. Supreme Court judges Kalpana Rawal and Philip Tunoi once contested the constitutional requirement that judges retire at 70. They wanted four more years.
The jar has never been full. Given a chance to work up to age 99, you will still give it a go.
I am convinced you have been saving for this phase of life. It should not even bother you that income replacement ratio in Kenya is 34 per cent. You currently earn Sh300,000 a month but upon retirement, the amount will come down to Sh100,000. Your son is currently earning zero, zilch, nada. His chances of getting employed lie solely on your selflessness.
You are probably contemplating starting a business because you did everything with your money except saving. You are aware that opening a business while under 40 is better than at 50 because you can fail at 40 and pick yourself up, thanks to time factor.
But why most people start their businesses when approaching retirement age is beyond my capacity to comprehend. Not all of us can become Harland Sanders who franchised his Kentucky Fried Chicken at 62. Panic is not a word I like to use. It is associated with attacks.
You look like you haven't saved anything for all those years in the workforce. A loan on salary is an option. Don't go buying a car with it.
In case you start that business, you will realise that your son may not need that job he has impatiently waited for so long. You can become your daughter's employer. While under your wing, teach them how to run and grow a business. Teach them how to conduct market research and utilise existing gaps. It is how family businesses are operated.
You have been saying you are an elder, therefore wise, so you know your way around. Apply that wisdom to your business. I hope you don't plan to counter. That not every person has the capacity run a business no matter how wise. Most importantly, pay your son as much as you would pay your other employees. He doesn't need to wait for inheritance.
But if your business fails before it starts, I advise you to become a motivational speaker. Not all motivational speakers are failures. You will get paid for your life's mistakes. You will travel the world and learn the world's culture without feeling the pinch of parting with money.
Your hosts will foot your bills. Above all, someone will have learnt from you the importance of saving early in life.
I hope you mastered the queen's language and other foreign languages while you were employed. Those will become your tools of trade.
Either way, ensure you become successful. Your success story will be used as an example by others who may have failed to think beyond the box. As a source of inspiration that the future holds so much promise and endless opportunities that may not require working way past retirement age, younger people will start saving early.
Government will stop foreign borrowing. I read that Japan's savings contribution to GDP is 30 per cent. Kenya's is just under 15 per cent. An ocean depends on a drop of water. It all starts with you. I forbid you to place full blame on government.
At times when you occupy a space for a long time, growth ceases. Move to the next space and let someone take the wheel.
Mr Wangalwa is a strategic communications consultant at P&L Consulting