Why civil societies are ill at ease with newly enacted anti-terror law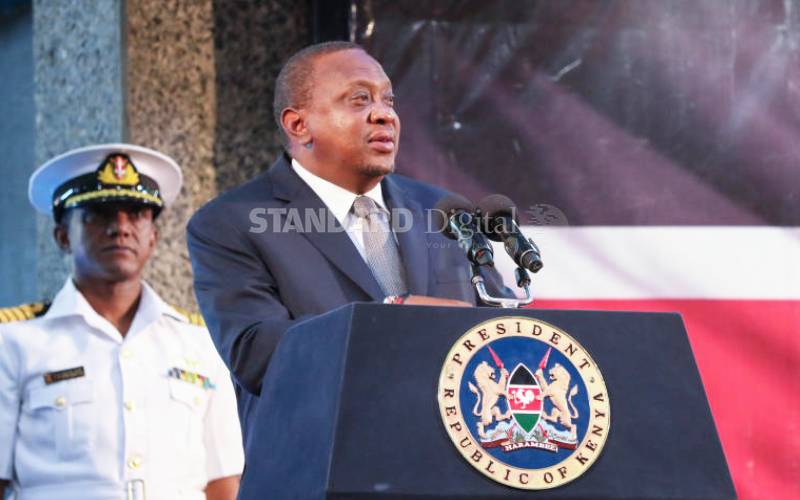 On July 5, 2019, President Uhuru Kenyatta (pictured) signed into law the Statute Law (Miscellaneous Amendments) Bill, 2019, that among others amended the Prevention of Terrorism Act.
The new law gives more powers and responsibilities to National Counter Terrorism Centre (NCTC) to effectively discharge its mandate. It brings more government agencies under the umbrella of NCTC in as far as preventing and countering violent extremism (PCVE) and or terrorism is concerned.
The law also empowers NCTC to be the approving and reporting institution for all civil society organisations (CSOs) and international non-governmental organisations (NGOs) engaged in PCVE and de-radicalisation through counter messaging or public outreach and disengagement, rehabilitation and reintegration (DRR) of radicalised individuals.
CSOs and NGOs have in principle welcomed the new legal instrument for it will give impetus to all the efforts expended towards slaying this dragon that has contributed to re-marginalisation of the frontier counties and the coastal region.
Nonetheless, NGOs and CSOs have equally raised some key issues concerning the new law that NCTC should take into account while developing the guidelines for the implementation of the amended piece of legislation.
For a start, civil societies do not have a problem with the reporting requirements set out in the new law. This is a welcome legislation that will improve accountability, facilitate development of a repository of PCVE knowledge and generate robust information that will aid replicability of good PCVE practices and strategies in the country and beyond.
CSOs are also in agreement with the new law that not every Tom, Dick and Harry can engage in DRR in the context of PCVE. This is a sensitive subject that needs a multiplicity of skills and experience, including vetting and psychosocial support.
What CSOs are concerned about is the language of "approving" in the new law. What does it entail? Can it be interpreted differently by different government agencies including NCTC to the detriment of NGOs/CSOs working in the PCVE space? This approval requirement may shrink the space for civil society in PCVE as alluded to below.
One, the requirement may amount to double registration for NGOs/CSOs working in the PCVE space. Already, these organisations are duly registered by the NGOs Coordination Board under the NGOs Coordination Act of 1990 that has since been replaced by Public Benefit Organisations (PBO) Act of 2013 that the Government has failed to operationalise.
Two, what will happen to organisations that implement both PCVE and peace building activities? What is the difference between violent extremism and conflict that requires two different (and competing) legal, policy and regulatory jurisdictions? Research has established that unresolved grievances and conflicts "push" communities to radicalisation and violent extremism. The drivers of conflicts are the same drivers of radicalisation and violent extremism. You remove the 'ideological" narrative in violent extremism and what remains is conflict and or grievances.
To circumvent the "approving" requirements of the new law; NGOs and CSOs may simply remove the ideological counter-narratives in their ongoing/future PCVE programmes and work closely with the more accommodating state agencies like National Cohesion and Integration Commission (NCIC) and the Directorate of Peace Building and Conflict Management (popularly known as National Steering Committee on Peace Building and Conflict Management).
Three, there are valid concerns that "approving" PCVE programmes may inhibit innovation among the CSOs/NGOs. Grant-making is determined by their ability to come up and compete with new innovative ideas to displace and delegitimise polarising extremist narratives. It then follows that any attempt to monopolise ideas through such legislative and regulatory framework may kill innovation in the PCVE space.
Four is the capacity of NCTC to approve all PCVE initiatives across the country. Although county commissioners are the "eyes and ears" of NCTC in the counties, they have many other competing priorities to effectively play this "policing" role. In addition, the commissioners are already collaborating with CSOs in a myriad other engagements so this inhibiting requirement may disconnect them from the very CSOs/NGOs that aid their day to day peace building work.
Violent extremism is a major peace and security challenge and what is needed is an enabling policy, legislative and regulatory frameworks for its prevention and not shrinking the PCVE space.
Mr Pkalya is a Conflict Management PhD student at Kisii University