RIP Mugabe, your legacy will surely live on in Africa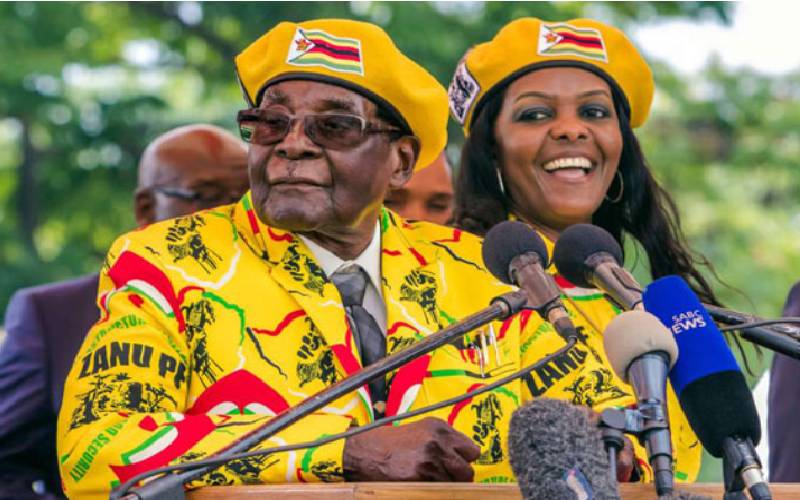 Comrade Bob is no more. The dictator is dead. Long live the dictator. Bob is gone, but his partner in crime Emmerson "The Crocodile" Mnangagwa, is alive, well, and likely to live many more years.
Together they did many dastardly things, including massacring thousands of ethnic Ndebeles to consolidate their grip on power.
So it comes as no surprise that Mr Mnangagwa is hailing Bob as a "national hero". Never mind that he was part of the crew who "ousted" the so-called liberation hero from power.
But that's politics, I guess. Politics, capitalism and dynasty building. Nothing to do with governance or goodness. And nothing to do with the people on whose backs dictators live for years and years.
Either way, it's certainly the end of an era for Zimbabwe and Africa. One thing you cannot take away from the old tyrant of Zim is his stand against white oppression.
It's too bad that he was corrupted by the good life, the very thing he accused the empire-makers of enjoying a little too much. In the end, to paraphrase Michael Joseph, he became a white capitalist in a black liberator's body.
Even so, may he rest in the knowledge that his legacy will live on, because in Africa it is usually business as usual – out with the old, in with the old. I pray God allows me to live as long as he did; may be then I will see a change from the epoch of predatory, extractive African monarchs, to governments by the people, for the people.
Much grandstanding
As dire as our future seems, we the minority shareholders in Kenya Inc., there is still reason to hope. As a people, our resilience level is off the charts. We live in a sink-or-swim society, with a leadership that would be hard pressed to care less about the concerns of its citizens, and yet we survive.
Imagine how great we would be as a people if our government focused more on governance, and less on profit-making and sharing. It really is disappointing when you think about it, such a waste of potential, and so much grandstanding when what we need is service.
Take Bob's passing for example. Leaders around Africa, many of whom knew exactly who he was, quickly sent in their messages of glowing commiseration. This included one Mr Raila Odinga. Much as I love to rag on the former prime minister, and now building-bridges aficionado, he made an effort to temper his condolence message with a smidgeon of realism.
First, he spoke to the people of Zimbabwe, empathising with their loss. Then he wished them peace and stability, something that they cannot take for granted given The Crocodile's recent crackdown on Zimbabwe's fresh crop of liberators. But despite his best efforts to be politically correct, Raila's view of governance was apparent.
Monarchical autocrats
In referring to Mugabe as Zimbabwe's "founding father" who like others made mistakes during his "reign", Raila seemed to be underscoring the idea that voting citizens are children who must pledge their allegiance to monarchical autocrats even in death.
Then again, may be he was sending a message about founding fathers, and the commercial kingdoms that last long after their passing. May be he was making reference to tribal kings, and the princes who extend their legacies at the expense of a hapless peasantry – to feudal lords and landless masses.
Which is perhaps just a bit of insight into his current, and possibly future associations with the crown. A glimpse into how he really feels. Just may be.
Either way, Mugabe's reign is well and truly over. Like every other ruler in history, his time on the throne was marked by great successes and failures. Like many other men that history will never forget, he was a complex individual. Sharp. Witty. Defiant. Brave. Insecure. Greedy. Heroic. Strong. Unyielding. Paranoid. Power hungry. Loving. Spiteful. Entitled.
And most of all, infinitely unforgettable. His time on earth will forever be a matter of historical record, no matter what anyone thought of him and his presidential exploits. I personally, will miss his humorous way with words, and his lifelong quest to spit in the face of white superiority.
Say what you will, but Mugabe was that guy who was unashamedly African in a world that would rather that Africans were seen and not heard. In his Anglicised accent, he made it known that Southern Rhodesia's former oppressors and likeminded imperialists, were not going to put him in the corner, which is to be commended.
And with that, Zimbabwe moves on, and the rest of the world looks on. Here's to the reign of The Croc, may it be shorter and sweeter.
Ms Masiga is Peace and Security Editor, The Conversation Africa