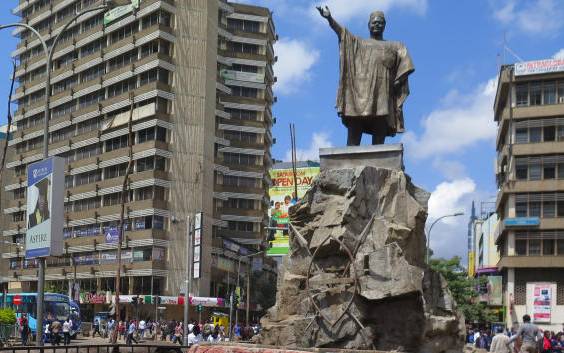 The beauty or otherwise of any city is borne out by its monuments, thoroughfares and landmark edifices. That is what one sees in Rome, Seoul, Guangzhou, Kuala Lumpur or Washington DC to mention but a few. South African cities are replete with well-groomed statues of founding President Nelson Mandela. Machakos Governor Alfred Mutua was spot on when he expressed disgust at the disrepair and abandonment of the Tom Mboya memorial statue in downtown Nairobi erected in 2003 in honour of one of the nation's foremost heroes. The monument has since degenerated into an eyesore and a national shame.
Gunned down
The bronze workmanship by artist Oshottoe Ondula that stands barely 50 metres from the spot where Mr Mboya was brazenly gunned down in broad daylight by an assassin in 1969 was at its prime a magnet of sorts with its water gushing fountains and a moat that later became a repository of putrescent garbage and dead creatures, thanks to neglect.
SEE ALSO: Mbadi, Aladwa differ on move to discipline MCAs
Even in its current rot, multitudes still flock around it. Nairobi Governor Mike Sonko took umbrage at Mutua's remarks, but that was normal. It is human nature to jealously guard one's territory against outside aggression. Sonko is entirely not to blame for the ugly picture that, true to Mutua's sentiments, casts Kenya and its leadership negatively in the eyes of visitors to Nairobi, Africa's only United Nations headquarters. Former Governor Evans Kidero before him ought to carry the bulk of the blame because Tom Mboya, whose 50th death anniversary will be marked on July 5, was not only an iconic national leader, but a dear father-in-law. The statue and its condition should have been close to his heart. It was the height of callousness on his part to allow the monument to dilapidate and crumble under his watch. How does he feel when Mutua commits to repair the statue with his own money? Where is Kidero's conscience, I dare ask. Mutua's offer ought to have pricked him even if his conscience is made of stone. Back to Sonko. His latter-day actions paint the portrait of a leader who cannot watch for long as Tom Mboya and other city monuments continue to disintegrate. Why do I say this? Even without a deputy, Sonko has in the brief space of two years done better than his predecessor in his bid to recoup Nairobi's glory. Whatever is said about his brusque and unpolished personality or the height of his academic ladder, (Kidero once remarked sarcastically that Sonko could not pronounce the name of United Nations Secretary General Antonio Guterres) Nairobi's new-look Luthuli Avenue currently under construction and the nearly completed modern stadium in Dandora speak volumes of what he is capable of achieving for the once acclaimed Green City in the Sun.
SEE ALSO: What it takes to impeach Speaker Beatrice Elachi
Add to that, the beautification of Mombasa Road, Uhuru Highway and Muindi Mbingu Street, the resurfacing of Kimathi and Moi lanes that previously were nothing but stretches of mud, puddles, craters and dust depending on the season. Bright lights have taken the place of darkness and gloom that once reigned supreme in the lanes that were a heaven for hoodlums. His 'Sonko Rescue Team' has saved many a desperate soul. He has not forgotten monuments either, and takes credit for the recent refulgence of the statue of unknown world war soldiers on Kenyatta Avenue. Signals abound that it is only a matter of time before other forsaken monuments get a face lift, courtesy of Sonko's efforts to turn around Nairobi's image. His well-known wrath for grabbers has left many cursing when their ill-acquired property come tumbling down, but Sonko's love for Nairobi and its masses cannot be gainsaid.
Street families
Now, some things for Sonko and his team to mull over in efforts to better Nairobi's image and reputation. One is street families. If left unchecked, these homeless people will spread to vital organs of the city, with negative repercussions on social fabric, including tourism. The governor and his team have to prescribe some therapy here for safety and cleanliness to prevail.
SEE ALSO: Nairobi Railway Station turns into a modern city
Hawkers have been on the surge, making movement a nightmare in parts of the city. While it is virtually impossible to rid any city of hawkers, relocating them to designated areas at particular times would go a long way in sorting out the havoc that their ubiquitous presence creates. Brutal city askaris or kanjo as they are better known must be put through civil training or done away with altogether. Nairobi River from which the city draws its name has the potential of enhancing tourist and transport activities if cleaned, dredged and rehabilitated enough to carry oxygen for aquatic life. Besides, with proper management, the river can support both transport and tourism. It his high time the river ceased being a sewage. Joe Ombuor is a senior writer with The Standard.
[email protected]