Handshake bearing fruit despite the noise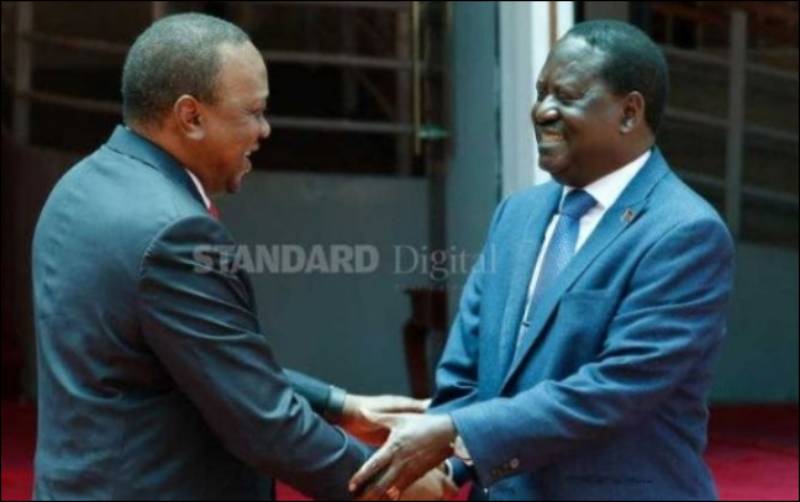 Ipsos, a globally respected market research company based in France, recently released survey results confirming what we already know. The March 2018 handshake is resoundingly popular among Kenyans.
An overwhelming 80 per cent of Kenyans support the handshake, mainly due to the conciliatory nature of two political rivals coming together to bring peace.
Since the Jubilee and ODM leaders ended the longstanding acrimony, and committed to working together for the betterment of the nation, their supporters have followed suit. Innumerable positive changes have followed. To name just a few, our currency is more stable, tourism is stronger than ever - we welcomed more than two million visitors in 2018 - and the Big Four Agenda is steadily proceeding.
The previously held notion that only a few tribes are active in politics is no longer relevant. The handshakeopened the door to a wide array of decision makers representing the diversity of Kenyans. Divisive tribalism is becoming history.
During Uhuru's second term, the anti-graft campaign has become a unifying, long-term goal for all. Political tension is markedly reduced, replaced instead by initiatives that the vast majority of the nation supports. Gone are the days when critics argued that the crackdown on corruption is targeting certain groups more than others. Its wrath is felt by all those who deserve it.
Uhuru's move to allow an opposition candidate to play such a large role in policy making and leadership reflects the concept of inequity aversion. In economics and sociology, inequity aversion is the fundamental human preference for fairness and equality. If one is not self-interested, he prefers to forego his potential gain in order to share it with a partner.
The people showed in two consecutive elections that they prefer Uhuru as our leader. Despite this, he recognised that giving voices to other popular candidates is the best way to democratically represent the interests of as many Kenyans as possible.
Uhuru is disinterested in his own benefit if it means that it will not benefit the nation. The wellbeing of citizens is his top priority - neither politicking nor creating a social media image matter to him when there are more important things on the agenda.
The recent rebuke of fellow politicians in Uhuru's address to the Akorino National Convention may have come as a surprise to some Jubilee party members. But it was clearly a tactical move aimed at telling representatives in his party that they are responsible for following in his footsteps and working with the opposition. All MPs who have the privilege of being part of the ruling coalition must get used to the idea that in a democracy, there are no gains when the minority voice is not represented.
It is laudable that Uhuru expressed his rebukes publicly, not behind closed doors. Politicians of old may have sat in shady offices with limited press access. KOT's (Kenyans on Twitter) may be wondering in short, witty bursts where Uhuru has been. But he is right here, making the intricacies of his administration known to the public.
This is not a case of airing dirty laundry - it is a demonstration of servant leadership. We all deserve to know the internal debates of our elected representatives. Programmes pertaining to the Big Four have already been set in motion. As the new fiscal year is upon us, let us take a step back to consider Kenya's promising future. Budgetary measures under CS Rotich have been adjusted to ensure that the management of the economy is being guided by Kenya's dynamic growth trajectory. Changes to civil service employment practices in the coming fiscal year are set to lead to more streamlined bureaucratic processes, and less money will be disappearing into the public sector.
It appears that despite what the media would have us believe, the general public has not gotten too caught up in the gossip and vitriol of 2022 elections. The Ipsos poll is evidence that we overwhelmingly back the unity measures, and that the Kenyan nation accepts our leadership with open arms.
-The writer is an accountant in Nairobi