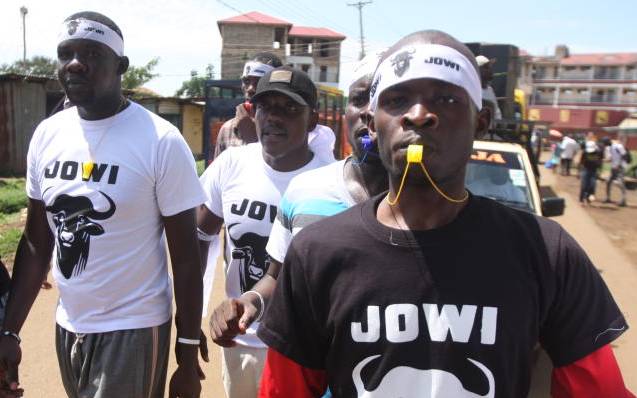 There appears to be a foul national mood. Whether it is the president missing from public visibility, politicians haranguing each other or suspicions of looming financial scandals, the country is unhappy.
There is general disquiet within the country's political parties giving room for public cynicism. Intolerant parties talk democracy for others and throw the concept out the window. In the process, party leaders become so sacrosanct that they are always right, even when not.
The assumed rightness of the leader becomes an excuse for parties to punish members or supporters with independent minds. Raila Odinga's ODM and Musalia Mudavadi's ANC displayed intolerance by kicking out Aisha Jumwa and Godfrey Osotsi. On its part, Jubilee simply fractured into Kieleweke and Tanga tanga with both feuding groups pledging "loyalty" to President Uhuru Kenyatta. On his part, Uhuru's inner political self seems to be unsure in the presidency.
In part, the cynicism is because the entire public service system is wanting. Collectively, the executive, the legislature, the judiciary, and the numerous commissions that the 2010 Constitutions created generate despair rather than confidence.
Read More
Neither the bicameral Parliament, nor the devolved county assemblies looks good when greed and other misdeeds imply that Kenyans are poor because members of the two institutions disregard people interests and deplete public coffers.
Ideological mischief
The presidency communicates poorly. The communication system lacks public presence so much that Uhuru's Big Four is invisible amidst escalating scandal allegations.
The Universal Health project, for instance, sounds good but it has problems competing with regular reports and pictures of unhealthy hospitals and health centres that lack medicine or appropriate facilities and equipment. Political and ideological mischief derails acceptance of the big promise project, infrastructure everywhere, by alleging cost overrun due to corruption.The Big Four had much initial promise. It started in December 2017 as Uhuru's final term big dream of transforming Kenya positively but upon announcing the dream, he encountered serious engineered obstacles.
Having vowed to make governing difficult, Raila Odinga succeeded so well, he forced Uhuru to accommodate him in March 2018 in what came to be known as the handshake. The two men also set up a committee of 14, seven each, baptised it the Building Bridges Initiative (BBI), to harmonise outlooks. From the beginning, Odinga made himself the handshake interpreter. With Uhuru and Raila calling each other "brother", the handshake appeared to mean incorporating Odinga in the governance, which tended to sideline Deputy President William Ruto.
Diplomatic assets
In remaining quiet, Uhuru allowed Odinga to define the handshake, reorganise national political discourse, and systematically erode the president's initial position. This had two consequences. First, the handshake positively lowered the Odinga generated governance obstacles.
Second, it relegated the Big Four onto the back burner; maintaining harmony with Odinga became the main pre-occupation. Subsequently, Odinga appears to have penetrated government so much that he virtually is the "government." This makes Uhuru seem hostage to some forces. No longer enjoying being president, Uhuru's lot, like that of the constable in Gilbert and Sullivan's Pirates of Penzance, "is not a happy one." This is partly because dealing with big "felons", with big "felonious plans" that mature quickly, is not easy.
As people with dubious "honesty" credentials accuse each other of corruption and demand the arrest of rivals, they conveniently ignore the fact that they have several graft allegations of institutional pillaging facing them. They allegedly pillaged agricultural and institutional training lands, school and airport lands, manufacturing plants, diplomatic assets, and even cemeteries. With the public knowing such realities, subsequent talk of graft fighting appears like engagement in poorly rehearsed rhetoric.
Uhuru has much work to do to arrest negative perceptions. He has some achievements but poor communication system and confusion in his political economic backyard undercuts them. His Big Four dream needs serious properly facilitated secretariat. To deal with perceived anomalies that give him bad image, his team needs sprucing. Most important, Uhuru needs to be seen to be in control by casting away the impression that he is "hostage".
Prof Munene teaches History and International Relations at USIU.