What America under Trump can learn from Kenya's past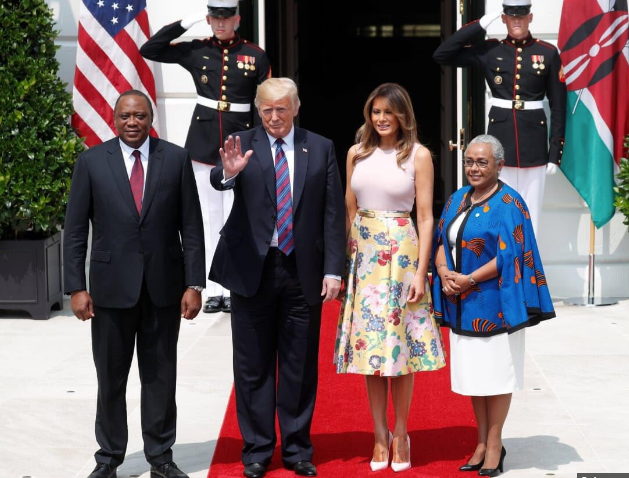 President Kenyatta's meeting with Donald Trump this week provides an opportunity to reflect on the leadership and direction of my home country, the US, and my adopted country, Kenya.
Kenya continues to grapple with the legacy of the near-genocidal post-election violence of December 2007. The recent passing of Kofi Annan provides an opportunity for many of us to reflect on the successes and failures of the National Accord and his legacy in Kenya.
One of the institutions that came out of that process, and that was both a success and failure, was the Truth Justice and Reconciliation Commission (TJRC). Regardless of how one measures the successes and failures of the TJRC (my own assessment can be found in my newly released book, The Kenyan TJRC: An Outsider's View from the Inside), there is no question that its 2,100 page report can still play an important role in supporting ongoing efforts to further Kenyan national unity through an honest and transparent approach to addressing historical injustices.
TJRC was not perfect, nor is our report. Yet tens of thousands of Kenyans engaged with the commission through our statement-taking process.
We included many of their voices, their grievances, their hopes, and their dreams in our report. Our report was not meant to be the answer to all of the challenges facing Kenya. Rather it was meant, and I hope someday it will be used, as a contribution to a robust, and honest public discussion about how best to address the injustices of the past.
It is unfortunate, then, that Parliament has failed to table or debate the TJRC's report. It has been over five years since the report was submitted to the President and Parliament.
From time to time, hope has been raised that it will be taken seriously and its recommendations implemented. During the presidential campaigns, significant political leaders pledged to fully implement the TJRC report. Both of these promises have, unfortunately, led to naught. The minute the election was over, the TJRC report all but disappeared from the public discourse.
Back in the US, my view of the Kenyan situation has been transformed from bleak to cautiously hopeful, less because of any change in approach in Kenya and more by the negative forces unleashed by Donald Trump and his administration. Trump is not only failing to address the legacy of historical injustices that continue to plague the US – the legacies of slavery, genocide, and racism; the continued harm inflicted by institutional and systemic racism; the widening wage gap between working class Americans and the political and economic elite – he is affirmatively dividing rather than uniting Americans on these and other issues.
We are quickly moving down a path that inevitably leads to more division, violence and injustice. The growing divisions here in the US are often fueled by tribalism and its manipulation by political opportunists, and I fear we are becoming more like Kenya pre-2007 than many of my co-citizens would like to believe.
There is little movement at the moment by members of Trump's own Republican Party to try to curtail this slide towards further division, hate and injustice. The approach appears to be indifference or even satisfaction at the ability to stay in power and pursue self-interested and divisive agendas. In other words, the US is exhibiting many of the traits of a society on the verge of serious division and violence.
Kenyan politicians and elites, by contrast, appear to be taking baby steps towards unity. It is easy to be cynical about the rapprochement between Raila Odinga and the President. I know that some see their handshake as signaling the end of any effort to address historical injustices, with or without the TJRC report.
Yet the current move towards reconciliation could provide a political opening, however small, on which others can build to create a more unified, and just, Kenya. It may not come from the political elite. But the political elite may, whether wittingly or not, provide an opening for others to push for further justice and national unity.
An additional important step in this direction, which might counter some of the understandable cynicism accompanying the current rapprochement, would be for Parliament to table and debate the TJRC report. Such a move might jump-start a much-needed conversation in Kenya, and might provide a model for us in the US to emulate.
-The writer is a professor of Law at Seattle University. From 2009 to 2013, he was a commissioner, TJRC
To fight drought, involve communities
According to the latest information from the Meteorological Department, rainfall will be poorly distributed in April, May and June, and this will have a serious impact on agriculture