Has Zimmerman Estate converted to a dumpsite?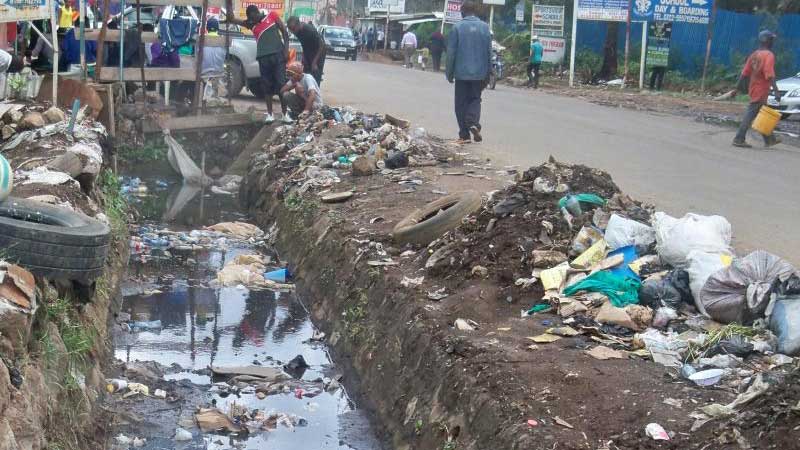 Zimmerman estate is increasingly becoming another dumpsite in Nairobi. The estate has become quite filthy and poses a health hazard to the residents; from litter lying all over the compound, pathways, door steps of residential and commercial buildings to the small markets within the surrounding.
Poor drainage
The poor drainage can be attributed to garbage lying all over the place especially the polythene papers and plastic bottles that have continued to block the drainage system in the area.
Heavy rains have wreaked havoc leading to floods, swamps and making some of the paths and roads impassable. Mosquitoes are bleeding in these damp areas, flies congregate around feeding on decaying matter before flying in peoples' houses.
Some houses lack a drainage system and the waste from the kitchen and washing area is left to trace its way out of the building. Some of the landlords have failed to comply and tenants do not pay for the garbage collection but end up scattering it and dumping it around at the expense of those who comply.
According to the residents, the last time they saw city council's garbage truck was months ago with a single truck that could not absorb all the garbage in the area. Some roads and bare land have been converted to dumpsite.
During this rainy season, some low elevation areas have been hit by floods yet they have the highest concentration of economic activities. Due to poor solid waste management, most trenches and sewage networks are blocked.
There are numerous food vendors and roadside food eateries close to the open garbage, dusty roads and overflowing sewer trenches. The common foods in these joints include chapatis, roast meat, mshikaki, mandazi, meat stew, githeri, sausages, samosas, chips, soup, roast maize and many others.
The food handlers contribute to this mess by littering the area and throwing the waste in those trenches oblivious of the risks and dangers they are being exposed to together with their customers. A directive by the county government a while back to close these joints appeared to have fallen in deaf ears.
With reported cases of cholera outbreak and other related diseases, residents in this area could suffer from the disease owing to food contamination. Ostensibly, most residents depend on water from vendors whose source and safety remains unknown since the piped water is occasional while for others, boreholes are their alternative sources of drawing water.
Cholera outbreak
Previously, cholera outbreak was reported in various parts of the country. Tana River county was the first to experience the outbreak in October 2016. Garissa county followed in April 2017 and later spread in other counties notably, Mombasa, Kiambu, Kericho, Narok, Nakuru, Vihiga, Turkana, Mombasa and Nairobi which was not spared either. Surprisingly, in Nairobi county, a high-end hotel linked to a prominent politician was the first to report cholera outbreak where a number of guests attending a scientific conference were diagnosed with the disease.