Why opposition parties aren't a viable option for Kenyans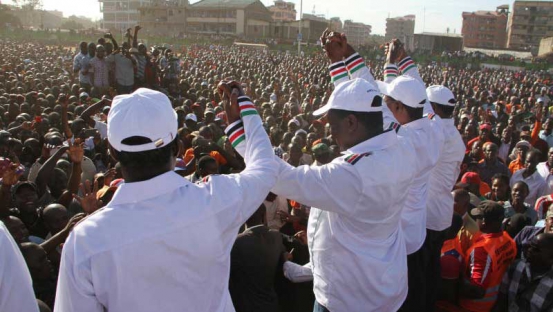 We are now in the election season. ODM party primaries kicked off Thursday and are expected to go on until mid next week, while Jubilee Party will begin its nominations on Friday.
Going by past experiences in some counties and constituencies, this is the most acrimonious stage of electioneering, with the stakes even higher than the actual election in August. Once you have secured the ticket of the "dominant" party in the region, you are almost assured of a victory.
On the surface, such contentious battles are good for democracy, as it shows that people care about their choice of leader, and that they believe their vote will actually count.
But on the other hand, victory in party primaries is often not only about choosing the person the community thinks makes the best leader. It could simply be a question of logistics – the candidate that can marshal the most supporters on that one day when it counts the most.
Political "mobilisation" is a crucial skill in a multiparty democracy that not all candidates have – some aspirants who would make great leaders are bad at political mobilisation, so they lose to bad leaders who know how to work the ground and turn out the vote.
Straightforward bribery, of course, is the easiest and cheapest way to mobilise votes, but not always.
The better way is by persuasion – highlighting one's successes or an alternative vision for the country, or simply painting oneself as less bad than other options.
Still, Kenyans' view of the viability of the political opposition is dim, and presents some interesting paradoxes that suggest power is what confers legitimacy in the eyes of many citizens, and not the other way round as you might expect in a free democracy.
Viable
Researchers from democracy research think-tank Afrobarometer asked respondents in 2014/15 if they thought the political opposition in Kenya presents a viable alternative vision and plan for the country. The view was mixed, with 36 per cent saying they "agree" or "strongly agree" that the opposition gives a viable alternative plan, while 45.2 per cent disagreed or strongly disagreed.
Still, nearly a fifth (18.7 per cent) of respondents said they were neutral, or didn't know enough to answer – suggesting that there's a large pool of undecided voters who could be won over with better communication and targeting.
But it gets more interesting when we look at how the popular view of the role of the opposition has changed with time.
The researchers asked respondents whether they thought opposition parties should regularly examine and criticise government policies and actions, or whether they thought it was better for the opposition to concentrate on cooperating with government and help it develop the country.
The question was first asked by Afrobarometer in 2008/9 during the early tenure of the Mwai Kibaki-Raila Odinga Grand Coalition government. More than half (55.4 per cent) agreed or strongly agreed that the opposition should question and criticise the government, while 39.9 per cent said it would be better if they worked together with government in development.
But in the latest survey, held in the early tenure of the Jubilee government (2014/15), the responses were dramatically different. Now just 35 per cent said the opposition should monitor and criticise the government in order to hold it accountable, while 63.1 per cent said is was better for the opposition to work with government.
What changed? How could there be such a dramatic shift of opinion in just six or so years, none of them with any catastrophic political event such as the post-election violence of ten years ago?
The clue may be in the wording of the question. In the latest round, the phrase "accept defeat" was introduced, and now read: "once an election is over, opposition parties and politicians should accept defeat and cooperate with government to help it develop the country."
It suggests that the Jubilee government's repetition of the phrase "accept and move on" in the aftermath of the 2013 election settled firmly in the public consciousness.
It seems that many Kenyans now associate any kind of criticism of the government as simply being a sore loser or a "hater", when in 2008/9 there was more room and public support for the opposition to play a watchdog role in holding government to account.
It also may not just be a question of Jubilee's success in PR; the opposition seems to have a corresponding communications problem.
Fighting corruption
When respondents were asked which party or parties would you say is most able to address the following matters – controlling prices, creating jobs or improving health, less than 10 per cent said the opposition was most capable, with support for the ruling party at about 90 per cent or more. There is slightly more support for the opposition in "fighting corruption" at 18.8 per cent, but even so, 9.3 per cent of respondents say that neither the ruling nor opposition parties are able solve the problem of corruption.
This is intriguing considering Kenya's supposed fierce polarisation along political and ethnic lines – even among respondents who are aligned to opposition parties, they largely, and sometimes overwhelmingly say the ruling party is most able to deal with the issues of the economy, healthcare, creating jobs and fighting corruption.
This suggests that trust for opposition parties comes with their winning an election; in other words, legitimacy and trust is not an intrinsic thing, but is instead conferred by power.
A separate working paper from Afrobarometer supports this view, looking across 36 countries in Africa, the researchers found that among the formal institutions of state, Africans in general trust the executive agencies (such as the president, the army, and even the police and tax authorities) far more than the legislative or electoral institutions. The most distrust, in nearly every country, is reserved for opposition parties.
And looking at the experience in southern Africa, public dissatisfaction with government performance doesn't necessarily translate into perceptions that opposition parties could do a better job.
This is particularly so in South Africa and Zimbabwe. While eight in 10 citizens in the two countries report poor government performance on their top policy priority (unemployment) only 37 per cent say that another political party could solve the problem. In Botswana, the Botswana Democratic Party is the region's most enduring party, in power since independence in 1966. It has even adopted the slogan "There is still no alternative" in the most recent election campaign in 2014. Only Tanzania's Chama Cha Mapinduzi (CCM) has been in power longer, since 1961.
The fact that legitimacy and trust is conferred by power may also explain the haemorrhage of support for the opposition in a watchdog role in Kenya.
What changed is that the Raila Odinga faction in the coalition government was in power in 2008/9, but lost to Jubilee in the 2013 election by the narrowest of margins (remember Uhuru Kenyatta garnered 50.07% of the total vote, avoiding a run-off by just 8,000 or so votes.)
In the Kenyan context, where there are more political than economic opportunities, and politics is one of the few routes to public respectability, that marginal loss was more than just a straightforward loss in a healthy, democratic competition.
Potential voters
It was also about a dramatic loss of status, which Jubilee was quick to capitalise on, like spearing your adversary when he is already down, and which – surprisingly – CORD seemingly did not see coming.
The successful branding of CORD as "haters" is a move straight from the Kanu playbook, and has been working in marginalising the opposition's role as a check-and-balance to power.
Writing in The Conversation Africa, Rorisang Lekalake reckons that opposition parties might put off potential voters if they are seen to be constantly criticising the ruling party rather than contributing to the country's development, which is counter to the opposition's conventional role in a liberal democracy.
For Kenya, though, whether CORD can somehow re-energise itself, not only by vigorous campaigning, but also by somehow looking powerful (yet without access to state power), remains to be seen.
The writer is journalist and executive editor of Africa data visualiser and explainer site Africapedia.com