Kalonzo's four political symptoms, why he's a boxer in cement shoes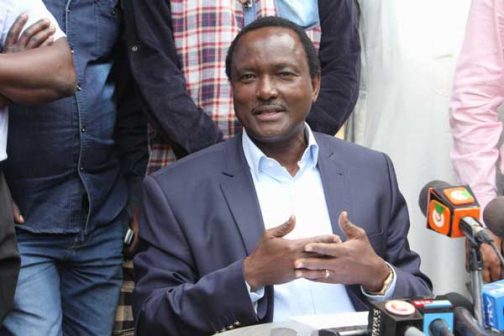 Let us conduct a political health checkup on one of NASA contenders to the throne. The 'patient' today is Steven Kalonzo Musyoka. Kalonzo passes the physical health tests. In fact going by the precedent set by his former mentor President Moi, he can even run for president in 2027 or even 2032 if he wants to.
Unfortunately, results of the psychological tests are not as good. The patient suffers from a severe condition that requires urgent attention and therapy. According to the results, Kalonzo has an 'Acute Delusion Syndrome'. Not to worry, this condition afflicts politicians of a certain age once every five years. And it has four distinct symptoms.
The first symptom Kalonzo is exhibiting is Severe Self-Love.
Fortunately, this symptom is not difficult to treat. All it needs is some ego shock-therapy to jolt him back down to earth. The tell-tale signs include statements such as 'I'm going for the Presidency of the Republic of Kenya on a NASA ticket; if that means I'm defecting to Jubilee or running alone, then so be it.'
Now, this is a grossly misguided statement that points at delusions of grandeur and imagined supernatural political abilities. And it is worrying coming from a man who could not secure even a million votes the last time he ran for the presidency. To cure Kalonzo of this, someone needs to read the Constitution to him. They should read it out to him loudly and very slowly. And they should stop and emphasise the section requiring the winner to garner 50%+1 of the national vote.
The second symptom plaguing our patient is the self-inflicted misconception that he is a Political Enigma. In his mind, Kalonzo is a 'professor of politics' and a political schemer full of mystery who no one else can read correctly. He imagines himself as what Winston Churchill described as 'a riddle, wrapped in a mystery, inside an enigma.'
In reality, Kalonzo is like Shakespeare's 'Macbeth', whose wife describes his face as 'an [open] book where men may read...' Even history makes Kalonzo's next moves highly predictable. He has always managed to get into government through back deals, not votes. So he will bolt as soon as he smells the best arrangement for himself, and join whichever looks like the winning team. And for this, I must admit that he is my hero.
However, this delusion is causing Kalonzo to behave like a boxer who announces his punches even before he launches them. And it shows how he deals with his adversaries. He is too direct, his moves are obvious. In his mind, he imagines that he is like the great Mohammed Ali; that he can float like a butterfly and sting like a bee.
But in reality he is like a boxer wearing cement shoes. That is why he is unwise enough to start a war on two fronts; blatantly attacking both Jubilee and Raila. Meanwhile, as he is doing so, his Kamba backyard is on fire, plagued by defections and rebellions every other day. Unlike him, his enemies are clever enough to fight him indirectly. Because of this, he will not see the knock-out punch that will end his political career.
The third symptom our patient suffers from is Selective Amnesia. Today he is promising Kenyans mabadiliko (change), yet he was opposed to mabadiliko to repeal Section 2A of the Constitution. This was in 1991 when he was the Organising Secretary of Kanu. Essentially, he was against the very democracy that allows him to run for president today.
But then again, Kenyans forget. Finally, the patient suffers from a Sense of Entitlement. He calls on us to elect him president because it is 'his turn'. He expects that if he gives us sorrowful stories of his endless betrayal 'kusalitiwa', then Kenyans will sob their way to the ballot out of pity for him.
And now, Mheshimiwa Kalonzo, we will give you a prescription pill. Next time you take a long hard look in the mirror, tend to your dreams instead of your afro. If you acknowledge and make some mental adjustments, your hope of being in government later this year - whether in NASA or Jubilee, is guaranteed. You have my vote. I am Team Kalonzo. At least for this Sunday.