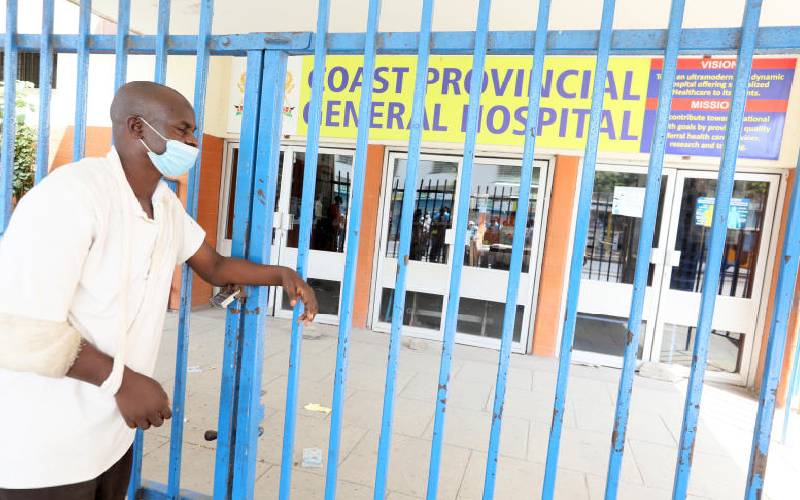 Doctors in private facilities in Mombasa will start their strike today if the county does not rescind its decision to sack 86 of their colleagues from public hospitals.
Kenya Medical Association (KMA) and union officials said services at the private hospitals will be paralysed if no agreement was reached by today.
KMA Mombasa Division chairman Ibrahim Matende said leaders who are tasked with resolving the health crises cannot continue to enjoy services in private facilities yet they have failed to offer leadership.
"It is unfair to subject the poor to suffering in government hospitals while their leaders are enjoying medical services in private facilities," he said.
Read More
Kenya Medical Practitioners, Pharmacists and Dentists Union Secretary-General Chibanzi Mwachonda criticised governors for not signing a return-to-work formula agreed on.
Unity in numbers
"We will mobilise all doctors in private and government hospitals to go on strike next week to demonstrate to our leaders that doctors can work in unity," Mwachonda had said.
Earlier, there was a heated debate in a meeting between doctors and union officials who met in Mombasa yesterday.
While some wanted the strike to continue, others criticised the union officials for turning a blind eye to the plight of Kenyans who are suffering and pleaded with the officials to engage the county administration to end the strike.
Meanwhile, Mombasa Senator Mohamed Faki has been tasked by the Senate to arbitrate the talks between the county and the union.
County Secretary Joab Tumbo said the discussions were going on.
"Talks are going on well. If we arrive at that decision (reinstating the sacked doctors) we will inform you. We have not reached there yet," said Tumbo.
On Saturday, talks between Mombasa County officials and the doctors' union to end a month-long strike failed to take place following the sacking of 86 doctors.
The County Public Service Board (CPSB) has advertised 25 vacancies for specialised doctors to replace those sacked.
CPSB Chairperson Farida Abdalla said the decision to allow the sacked doctors to re-apply for their positions will depend on how quickly the union returns to the negotiating table.
She said the county had no option but to dismiss the doctors after they failed to reply to the show-cause letters.
"We know it is not easy to replace all the doctors, but we had no option because they have been on strike since November last year," said Abdalla in a telephone interview.
The crisis in public hospitals in Mombasa is compounded by the fact that all the 800 nurses are also on strike. Talks between the nurses' union and the county officials collapsed three weeks ago.
"The talks collapsed, but we notice that payroll for nurses has been processed," Kenya National Union of Nurses secretary Peter Maroko told the press yesterday.