DPP opposes bail as Jumwa and bodyguard pleads not guilty to murder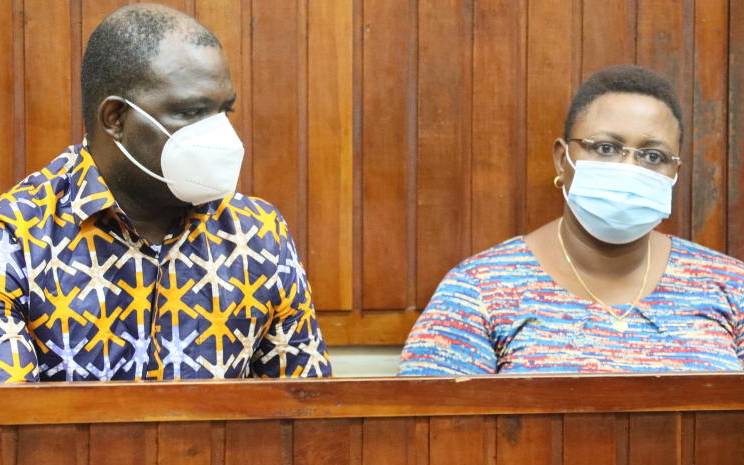 Malindi MP Aisha Jumwa and her bodyguard Geoffrey Otieno Okuto spent another night in police cells ahead of their bail application ruling today.
This was after they were formerly charged yesterday with the murder of a man during a by-election in Ganda Ward last year.
Jumwa and Okuto denied shooting dead Mr Ngumbao Jola on October 15 at the home of current Ganda MCA Reuben Mwambire Katana.
The MP is facing another case in a different court over the loss of Sh20 million from the National Government Constituency Development Fund.
Jumwa and Okuto have been in custody at Port Police Station since Monday. They'd been detained pending a psychiatrist's report.
The duo denied killing the 48-year-old when they appeared before High Court judge Njoki Mwangi. The judge is today expected to rule on their bail application.
The Director of Public Prosecutions opposed their application for bond pending their trial saying they are likely to interfere witnesses.
Senior Principal Prosecution Counsel Alloys Kemo said the victim's family had expressed fears Jumwa and Okuto will interfere with evidence if released.
But Kemo said they were unable to file an affidavit in time because the pre-trial report came late and requested the court for more time to do so.
"The prosecution prays that we be granted opportunity to file an affidavit so we can make submissions on evidence and be able to make a just submission," said Kemo.
He added: "The DPP apologises for not filing the affidavit today. There was no mischief intended."
However, lawyers Jared Magolo, Cliff Ombeta, Walter Omari and Shadrack Waweru, said Jumwa and Okuto should be released on bond because the DPP had not filed any affidavit to show they interfered with the victim's family.
Ombeta said as a sitting MP, the court ought to accord Jumwa some dignity and allow her to proceed with the case while out on bail.
"We know the position Jumwa holds. She is a politician and has some dignity she enjoys. For her to enjoy such dignity, allow her to proceed with the case from outside rather than inside the cell which will kill her morale," he said.
Ombeta said the DPP has not provided any evidence to prove Jumwa and Okuto ever interfered with witnesses.
Omari accused the DPP of mischief in trying to have Jumwa and Okuto detained. He said the DPP also failed to notify them of their intention to subject Jumwa and Okuto to psychiatrist tests and later applying for their detention.
"The State had the intention to detain Jumwa and Okuto. The DPP did not expressly communicate to the accused about mental tests they expected them to take. There was no order from your court that was disobeyed," said Omari. The DPP wanted the duo detained also for failing to take a mental test before taking plea.
Omari said failure by the DPP to file an affidavit was intended to deny Jumwa and Okuto bail.
Justice Njoki allowed the prosecution time to file the affidavit.
Magolo said Jumwa and Okuto were ready to comply with any instructions and orders of the court.
"For the past one year, the accused have cooperated with the DPP, the court and the police, and have demonstrated their respect for the rule of law," Magolo told court yesterday.