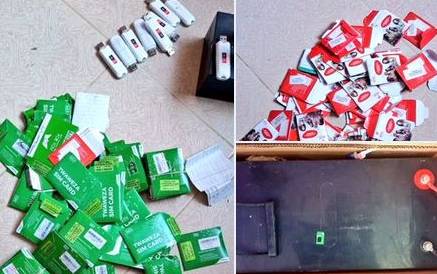 Police officers attached to the Special Service are holding a cyber-espionage suspect who was arrested yesterday night in Wundanyi, Taita-Taveta County.
According to the Directorate of Criminal Investigations (DCI), the 52-year-old suspect, identified as Archibald Mwandawiro was engaged in hacking messages and diverting them to unauthorised people.
"52-year-old Archibald Kalela Mwandawiro; a suspect of cyber-espionage was today arrested by SSU detectives at Milondo in Wundanyi-Taita Taveta County…used in the interception, access &transmission of messages to unauthorised recipients were also recovered," the DCI posted on Tweeter yesternight.
DCI revealed that an assortment of communication devices had been seized from the house of the suspect during the raid.
They include two Global Systems for Mobile communications (GSM) where one was fitted with 512 sim cards, there were also four Internet Routers where there was a GSM Skyline inserted with 64 Safaricom sim cards, 25 modems, 83 Airtel sim cards, 76 Safaricom sim cards, an electric inverter, a laptop and mobile handset among many others.
Read More
The officers have also revealed that the suspect is a computer scientist who currently does the illegal activities for people based abroad.
"It has since been established that the widely travelled suspect is a computer science expert from a local university, who sends espionage materials to a country in the West. He is in custody as further investigations continue," police say in a statement.
Elsewhere, the police have found Winnie Shakira Adhiambo, the 13-year-old girl who went missing from aunt's home in Nyakach on October 11, 2020.
"DCI CRIB detectives working in collaboration with Nairobi Region detectives are working to establish the circumstances surrounding her disappearance and how the same minor travelled to her aunt's home in Nyakach on October 17, 2020," the DCI said.