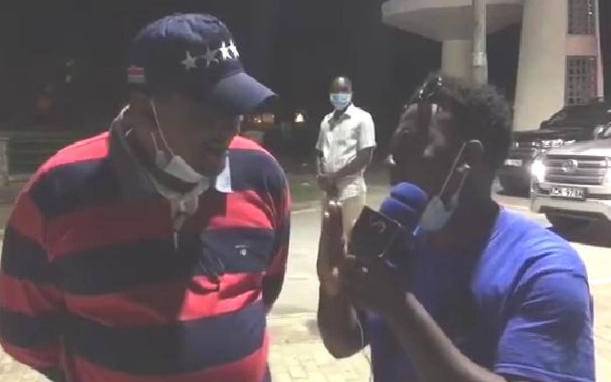 The young journalist who was captured on video breaking down while interviewing President Uhuru Kenyatta in Mombasa on Sunday evening has been identified as 20-year-old Dennis Mudi from Kakamega.
A video of Mudi crying went viral and has been shared on the interwebs.
Mudi says he was overwhelmed by the presence of the head of state and could not contain his emotions.
Read More
Rare encounter with Uhuru
On Sunday evening, Uhuru broke away from his security team to mingle with small scale traders who are based at Mama Ngina Waterfront Park in Mombasa. Part of the crowd was Mudi. The President exchanged greetings with him and to Mudi's surprise, Uhuru agreed to give an unscheduled interview for his online MK TV channel.
The interview was held at the park around 6.30pm on Sunday.
Uhuru has been in Mombasa on a low key visit, inspecting projects and his tour has been closed to most journalists.
The video clip shows President Uhuru Kenyatta casually dressed - wearing a cap and a face mask pulled beneath his chin. He attentively follows the tearful ramblings of Mudi, an MK TV channel journalist.
The young journalist had travelled from upcountry to interview small scale traders for his show 'Hustle mtaani' which airs on MK TV.
"I was busy interviewing madafu and kachiri sellers when security people suddenly appeared and told people to sit and avoid unnecessary movement," he says.
Mingling with traders
The President made an appearance without his security and started mingling with the traders; expressing interest in their wares and greeting them, to the surprise of all.
It was then that Uhuru noticed Mudi with his microphone and seeing that he obviously was not one of the traders, he approached him and started a conversation.
"I introduced myself as a journalist from Kakamega [who had come] to interview small scale traders for a show that we run at MK TV," Mudi told Standard Digital.
Mudi says the President was very amused and genuinely pleased that he was giving the local traders a platform.
"He then surprised me by offering me an interview," he says.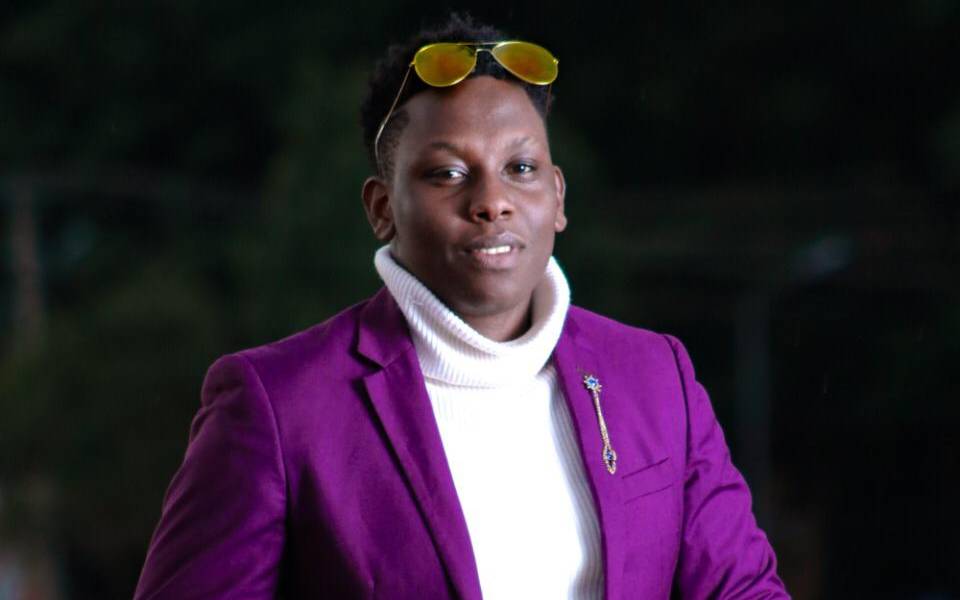 After an emotionally charged interview which lasted nearly ten minutes, as Mudi was signing off, he became overwhelmed and broke down.
His composure dribbled out of him and he started losing it prompting the President to do his best to encourage the young man with nods and smiles as he patted his back reassuringly.
"I have a guest who is President Uhuru Muigai Kenyatta, It's Unbelievable,,,,ooohh My God (sigh), he says repeating unbelievable over and over again.
"I am very thankful …" he says followed by sobs repeatedly before a final wail as he is completely overwhelmed by emotion.
The President offers his shoulder and the young journalist leans on it as he is consoled by Commander of the Armed Forces of the country.
Hoping to meet the President again
Mudi told Standard Digital that after the rare meeting, he was offered transport by an aide.
"I was also invited to meet the president at Statehouse although the call has not come through yet. I am eagerly waiting," he said.
He says that he cried the way he did because it was unexpected and overwhelming.
"I have been in journalism for only three months, interviewed many people mostly traders but never in my wildest dream did I ever think someday I would interview the president himself. It was so overwhelming at some point I just broke down," he says.
Mbui who uses his phone to shoot his interviews had to be assisted by a member of the presidential security detail to film the interview for him.
He says that the president offered to give him an exclusive interview and assured him that he would help him develop his station.
He said: "The president was so friendly and down to earth. Like I said, It's totally unbelievable!"