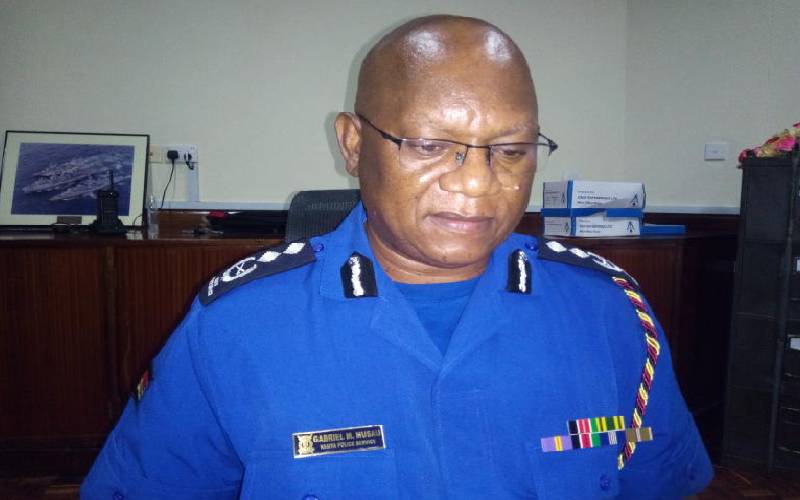 Police have denied involvement in the alleged disappearance of four persons from their homes in Mombasa and Kilifi counties.
The four imams, Khalid Salah, Juma Shamte, Hassan Ouma from Markaz Noor madrassa in Mtandoni in Kilifi and Abubakar Kalama from Mtongwe in Likoni, are said to have been abducted from their homes by people who identified themselves as police officers.
However, Coast region police boss Gabriel Musau (pictured above) said the families of the four had lodged a report of a robbery where unknown people broke into their homes and stole mobile phones and tablets.
"How can police officers abduct people? Those were thugs who forced their way and stole mobile phones and other properties... Our regional DCI is leading the investigations alongside other officers, but the police are not involved in the abduction," he said.
Read More
Families of the missing persons had claimed that armed people who identified themselves as police officers stormed their their homes and whisked away the kin.
Abubakar Kalama, 25 is said to have been abducted from his Mtongwe home a week ago.
His elder sister Pilly Hassan yesterday said dozens of police officers stormed their home on the night of August 13 and ransacked the room where Abubakar was staying before whisking him away.
She said the armed officers in combat gear and masks and in the company of a white man arrived at their home at around 2am in four vehicles.
"They used rods and some other metals to break the main door to gain access to the premises. They ransacked the house and bundled my brother into a waiting car," said tearful Hassan.
The other three from Kilifi County, Khalid Saleh, Juma Shamte and Hassan Ouma were taken away from their homes in Mtondia area.
Saleh was a director and manager of Markaz Noor Madrassa, Shamte was a teacher in the same Madrassa while Ouma was a gardener. They resided inside the madrassa compounds.
Hemed Saleh first born son to Khalid said the assailants further dismantled the CCTV cameras at the madrassa before leaving in the incident that lasted over two hours.