Panic as 2 inmates contract Covid-19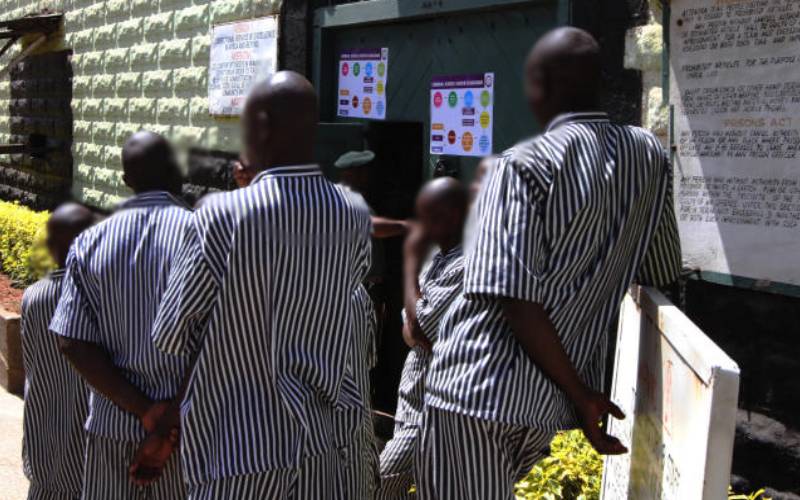 There was panic among police, prisons and Judiciary officers in Mombasa after two inmates in remand tested positive for Covid-19 after attending a trial session.
The positive tests were detected at Nyali Police Station on Monday, sparking frantic efforts to contain the spread in Mombasa's notoriously crowded penitentiary system.
Reliable reports indicate 10 other inmates in the same detention facility have been transferred to Shimo La Tewa Prison outside Mombasa and tested. Four others who were in the same cell with the positive victims have been tested and transferred to the Coast General Hospital where they were isolated.
Police told The Standard that test results of the 10 inmates transferred to Shimo La Tewa and 28 police officers who came into contact with the two suspects at the police station and in court were expected yesterday.
Meanwhile, unconfirmed reports indicate two positive cases have been detected at the Central Police Station in Mombasa after tests on 16 inmates. Last evening, we established that some inmates from Nyali Police Station who were evacuated to the prison have since tested positive.
"Two remandees tested positive for the virus and 28 of our officers were tested and are waiting for their results today," said Nyal police boss Daniel Mumasaba yesterday.
Mombasa Urban OCPD Eliud Monari did not respond to inquiries on the reported positive tests at Central Police Station.
We established that the two suspects who tested positive had been arrested with others for various crimes including assault, robbery with violence and narcotics possession.
They appeared in court on Thursday and Friday last week, but were returned to Nyali after detectives asked for more time to interrogate them there. Before returning to court on Monday, one of the suspects fell ill with a high fever, prompting tests on all inmates.
"They were tested last week and the results came after three days. Two of them were confirmed positive," Mumasaba said. On Monday, all police officers who came into contact with this group were tested, according to Mumasaba.
The Standard established that medical teams visited Nyali to test the police officers.
Some policemen were, evidently, shaken when we spoke to them while others claimed they lacked face masks and other protective gear.
Households get 3,000 tanks
The 50-litre capacity water tanks and 700-gram bar soaps are being distributed to vulnerable households in informal settlements