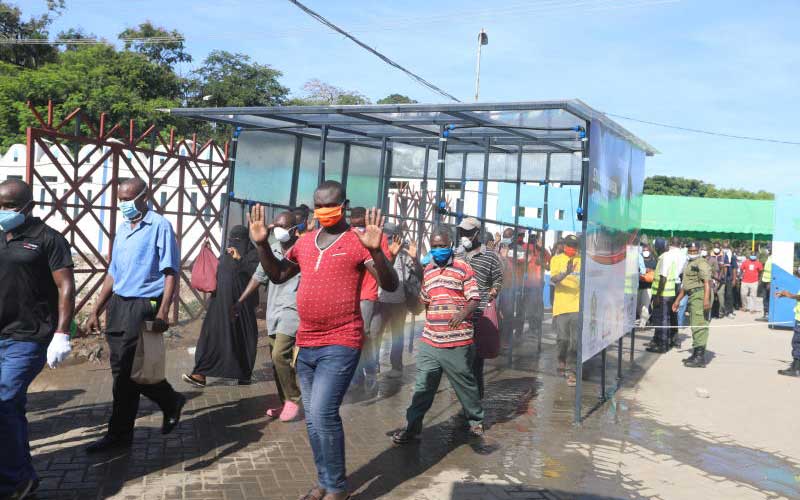 Mombasa County has introduced automatic disinfecting booths in all busy public areas in the war against coronavirus.
At the Likoni ferry channel and Kongowea market, residents simply walk through the booths as strategically placed jets sprays them with disinfectants, sanitising up 400 people in 10 seconds.
The machines were installed on Monday.
At Likoni Ferry, security officers lined up commuters to pass through the booths after ensuring everyone had on a face mask, washed their hands and observed the required physical distance.
Read More
Mombasa county communication director, Mudathir Ahmed, said the booths were installed jointly by the Hassan Joho Foundation, Suleiman Shahbal Foundation and Technical University of Mombasa to mitigate against coronavirus.
The Likoni channel booth has separate areas for disinfecting men and women commuters before they board the ferries.
A similar booth was installed yesterday at the mainland side of the channel to enforce the government sanitation measures against the virus.
"The Hassan Joho Foundation is in the process of installing additional 10 disinfection booths in all busy places such as markets and bus stages with a capacity to disinfect up to 400 people in 10 seconds," said Ahmed.
Meanwhile, face mask business is booming at the Likoni channel as security officers demand that all travelers wear them before boarding the ferries.
Traders are selling the masks at Sh30 a piece and pocketing up to Sh30,000 on a good day.
The area adjacent the channel however faced the challenge of disposing used masks.