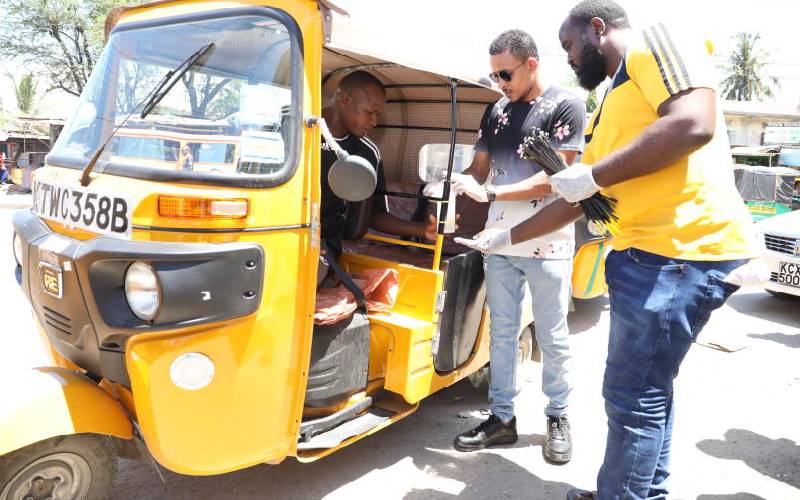 Anyone flouting public health guidelines to contain coronavirus risks three years' imprisonment.
President Uhuru Kenyatta has vowed stern action against those who refuse to isolate themselves.
A day after a government official was forcibly quarantined, the president said such individuals would face the law since the Ministry of Health had issued specific directives to curb the spread of the coronavirus.
Severest action
"The government will take the severest action against any individual who is in breach of the regulations provided by the Ministry of Health and end up risking the population," Uhuru said in an address at State House yesterday.
Read More
You risk being fined Sh30,000 or sent to prison for three years if you put others at risk of an infectious disease without proper precautions.
It is this provision in the Public Health Act, 2012, which Health Cabinet Secretary Mutahi Kagwe said would be used to charge Kilifi County Deputy Governor Gideon Saburi.
On Sunday, the government forcefully quarantined Saburi after he was found to have refused to do so on return from Germany on March 5.
Germany is one of the countries that have been ravaged by the coronavirus outbreak, and the CS, while invoking the Act on March 13, said all individuals who were recently aboard should self-quarantine for 14 days.
On Sunday, the CS said the Kilifi official would be charged after the 14 days of quarantine, adding that all persons coming to the country would be quarantined in government facilities at their own expense.
According to the Public Health Act, Section 28, any person suffering from any infectious disease and willfully exposes himself without proper precautions against spreading the said illness anywhere shall be guilty of an offence and liable to a fine not exceeding Sh30,000. The person may also face imprisonment for a term not exceeding three years, or face both punitive measures.
Section 28 also states that an infected person who enters any public transport without first notifying the owner or driver shall, in addition, be ordered by the court to pay for any loss and expenses they may incur in carrying into effect the provisions of the Act, with respect to disinfection of the vehicles or conveyance.
Every owner or driver of public transport is required to provide disinfection of the vehicle after transporting any person suffering from an infectious disease.
"And if he fails to do so he/she shall be guilty of an offence and liable to a fine not exceeding Sh40,000," reads Section 29 of the Act.
Beware landlords
A landlord who fails to disinfect, to the satisfaction of a medical officer, an infected house or any dwelling premises which any person suffering from an infectious disease has been occupying, shall be guilty of an offence and liable to a fine not exceeding Sh80,000.
"This section shall apply to any owner or keeper of a hotel or boarding house who lets any room or part thereof to any person," reads Section 30 of the Act.
The person letting a house lately infected should give true information. Giving false information attracts a fine not exceeding Sh1,000.
Directorate of Criminal Investigations has been sensitising the public on penalties they could face for defying the Public Health Act.