Coast governors warn DP Ruto allies over Tononoka BBI rally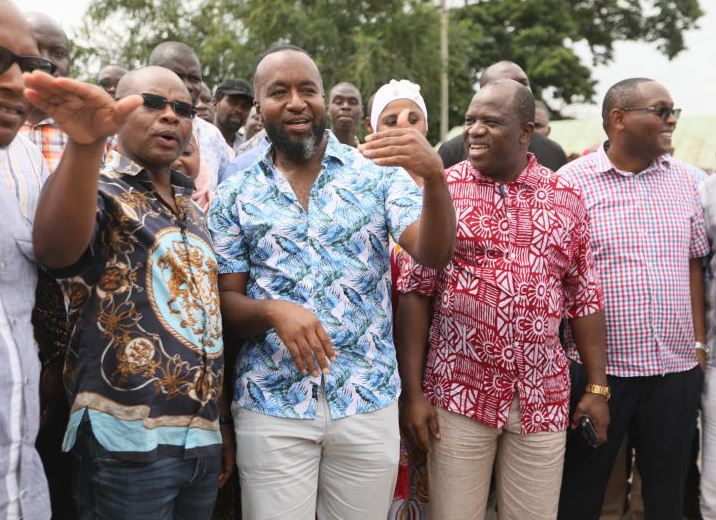 Four governors allied to President Uhuru Kenyatta and Orange Democratic Movement leader Raila Odinga yesterday declared that tomorrow's Building Bridges Initiative (BBI) rally at Tononoka Grounds would be controlled by residents.
They warned that no one would be allowed to hijack the meeting and turn it into a political contest, in apparent reference to Tangatanga politicians, who have pledged to attend the meeting.
The opposition governors - Hassan Joho of Mombasa, Amason Kingi (Kilifi), Granton Samboja (Taita Taveta) and Dhadho Godhana (Tana River - said the rally was meant for Coast residents to air their views and no one else should be allowed to speak.
Meanwhile, 3,000 delegates gather today in Mombasa to discuss the preliminary BBI report and prepare a memorandum of issues they want adopted in the final report.
The governors fired the warning shot after they inspected the venue in readiness for the rally expected to be attended by Deputy President William Ruto's allies, led by Senate Majority Leader Kipchumba Murkomen.
The warning gave the clearest indication yet that Uhuru and Raila allies would be in charge of the meeting.
Mr Joho said Tononoka should not be used as a "playing ground" for politicians who wanted to make a political contest out of the BBI process.
"We are ready for the BBI rally on Saturday and we welcome all. But there is no room for a political contest. Those looking for a political playground should try elsewhere and not county 001," warned Joho.
Mr Kingi said the rally was purely a Coast affair, where the resolution of 3,000 delegates who meet today at Wild Waters Centre will be tabled and endorsed.
Kingi said those with a different agenda would not be allowed to disrupt the rally meant for people from the six coastal counties to give their input on the BBI document.
Mr Samboja said although they welcomed everyone to attend the rally, not everybody would be allowed to speak.
"Attending the rally does not mean that everyone will speak. Those who are not intended to speak will not get the microphone at the rally," Samboja warned.
Golden opportunity
Mr Godhana said Coast residents would have a golden opportunity on Saturday since their issues would be captured in the BBI. He said nobody from outside would be allowed to interfere with the process.
The governors said their Lamu and Kwale colleagues - Fahim Twaha and Salim Mvurya - were in support of the rally.
Kingi said the Wild Waters Centre conference would bring together 15 delegates from every electoral ward in the Coast, who would prepare the agenda and the content to be forwarded to the BBI team.
"The issues agreed among the delegates at the conference will be presented to the rally and endorsed by Coast residents on Saturday," he said.
Joho explained that issues of land, declining economy, youth unemployment and social vices caused by prevalence of drugs would form part of the discussion by the delegates.
"We have invited delegates from all corners of the Coast region so that the BBI process becomes truly inclusive," explained Joho.
Also present were Kwale Senator Issa Boy, his Mombasa counterpart Mohamed Faki, Likoni MP Mishi Mboko, Mvita MP Abdulswamad Nassir, Kisauni MP Ali Mbogo, Changamwe MP Omar Mwinyi and Mombasa Woman Rep Asha Hussein.
Joho, who is the ODM deputy party leader, said more than 20 senators, 30 governors and 100 MPs were expected at the Saturday rally.
Last weekend, the Ruto group attempted to hold a parallel rally at Mumias as a BBI meeting took place at Bukungu Stadium in Kakamega. Police, who had cancelled their permit, dispersed them.
The group argued that since they also supported the BBI process, they had decided to join hands with the rest in Mombasa.
Ruto allies in Mombasa confirmed receiving an alert from their counterparts to attend the Tononoka rally, but urged the organisers to avoid threats and accord them a chance to address the public.
Nyali MP Mohamed Ali said although he had not been invited by the organisers, he would attend and articulate the issues in the BBI document, plus counter any political rhetoric meant to give some leaders mileage.
Sidelined
"We have been sidelined in the preparations as Coast leaders, but I will still attend the rally and express our views since this a national conversation. We urge our colleagues in Coast to accord every leader opportunity to speak. This is how BBI can be truly an inclusive process," Mr Ali said.
Jubilee politician Ananiah Mwaboza said he would attend, adding that they sought an opportunity to state clearly that nobody in the country had opposed the BBI document and hence nobody should be sidelined.
"Those who want to sideline others in the BBI debate are just seeking an opportunity to campaign for 2022 election. Nobody has opposed BBI and therefore we should stick to creating awareness on the process," he said.
The former assistant minister said the Coast region should seek to have historical land injustices outlined in the Truth, Justice and Reconciliation Commission included in the BBI document.