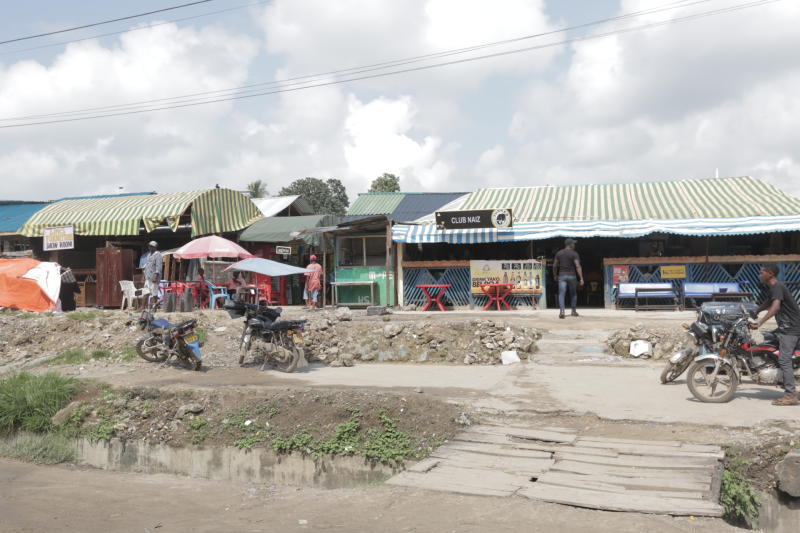 "In the eyes of my children, I am an angel. Their children too adore me. I am a paragon of virtue, my family's chief counsellor and the official custodian of morals. What more would a 50-year-old grandmother pray for?" This question was followed by peals of mirthless laughter that filled the room, for a time drowning the racket created by the whirring fan that was desperately trying to cool the so-called drop-in centre or a safe haven. Riziki paused, peered at her audience curiously and ominously whispered that her name, just like the veil she was wearing was a façade. Beneath the wrinkles and creases of face, she assured lay more kernels of some truth.
Doting children
SEE ALSO: The man of many hustles
But this truth, she told us, if exposed, could make her four children aged between 25 and 33 years pass out. She was therefore not about to reveal herself or her actual trade even when she finally retires. At the word retirement, her face beams with a genuine smile. "The only person who knew the real me, my real trade was my husband. From the first day we met he knew what I did for a living. Occasionally, he would fume if I was out for so long, but I would quietly remind him the circumstances of our first date; the commercialised romance under a coconut tree." That man died 15 years from HIV and Aids-related complications. Riziki, in the meantime sharpened her business skills. As she talks, she firmly closes her big bag, burying her secrets and tools of her trade. These are packets of condoms and tubes of tubes of jellies deep into her bag. If a friend inadvertently peeks into the bag and sees these tools, the grandmother has a ready answer. "I am a peer educator and I devote half of my time reaching out to women and girls who are engaged in sex work in Kilifi town," Riziki says, mimicking an innocent activist.
SEE ALSO: How to lead a more successful life
Before she opened up to us, Riziki could have passed as any other grandmother who hawks porridge around mnazi drinking dens. She confesses that she is forever on the prowl searching for illicit love, and she gets paid. She is what is referred in local parlance as a home-based operator who connects with her clients during normal working hours, closes her business in the evening and joins her family for supper. But although Riziki is a veteran in the nocturnal trade, she is violently protective of her children and her brow furrows at the thought that any of her daughters may venture into her "business." "I started this work when I was in primary school. A friend, Joan, would come with a lot of money. When I asked her, she introduced me to her clients who were ready to pay me for spending time with them." This, Riziki explains, is how she met her husband, who started off as a client and ended up marrying her, with full knowledge of her occupation.
SEE ALSO: It is illegal to fire a house help without notice, court rules
Riziki is among hundreds of women who lead a double life by hawking sex right under the noses of their relatives and or spouses using the cover of their 'legitimate" looking businesses. Every month, Riziki is paid a stipend of Sh3,500 by International Centre for Reproductive Health (ICRH), which runs the clinic, which is also referred to as a safe space for twilight women and girls. According to, Patricia Owira, ICRH's Project coordinator, Riziki is one of the 30 women who have been recruited to reach out to over 14,000 sex workers in Mombasa, Kilifi, Kwale and Taveta. The peer educators are supposed to cover 117 hot spots that have been identified as the bases for the twilight women and girls from where they run their enterprises. Each peer educator, Owira explained, is supposed to have a minimum of 80 sex workers per month. The sex workers are categorised according to their areas of operation and the status of their clients. Those who operate in their neighbourhoods are categorised as home based, and majority of them are married and have children. "I know of more than 100 married women in Kilifi who are engaged in sex work. I have educated all of them. They look for me and we meet at least once a week. We are so many that we are planning to establish a group which can engage in an alternative income-generating programme," says Riziki. Another peer educator, Mariam who is half Riziki's age age is at home at a popular night club that is just a spitting distance from her favourite guest house. She explains that she got hooked to Kilifi night life in 2005, just after sitting her final primary school leaving examination. At the guest house where she has teamed up with six other colleagues, Mariam pays Sh400 per day as her contribution towards rent. On some days there may be no clients but Mariam says that her group must cough up the Sh2400 they are required to pay daily to the owner whose building has a total of nine rooms. This means that every month the girls spend Sh72,000 for a single room which is just big enough to accommodate a bed, a coffee table and some basic utensils like a cooking pot and a stove. When asked whether the daily rent is not too high, she shrugs and counters," What can one do. The owner knows the business we are in but does not care whether we have clients or not. His main concern is that we pay," Mariam adds.
Prowl for clients
There are times, Mariam has to migrate to Malindi, when things are tough in Kilifi, where she seeks refuge in a bedsitter rented by a friend who has a boyfriend in Germany. "I also migrate to Malindi where a friend lets me use her room to entertain my clients whenever I am around. Since her expenses are paid by her boyfriend, she charges me nothing." Even as she prowls for clients near her favourite hunting grounds, she also educates 50 of her peers how to avoid contracting sexually transmitted infections and how to deal with violent clients. Surprisingly, just like Riziki, Mariam has a four-year-old son who stays with his father in Kilifi town as she explains. "The father to my son has no idea what I do for a living. I have been in this business for eight years now." Kilfi town alone has 96 hot spots where sex workers hang out. According to Owira, sex work has been devolved to the village level, where twilight women and girls scout for clients in mnazi selling joints locally known as mangwe. Already some of the girls who sat their KCPE examination last month have already started flocking the beaches and drinking dens, where they are peddling their young bodies, offering stiff competition to the veterans. The other category of sex workers are those who hang around pubs hoping to get clients among the revelers while others operate sex dens similar to Mariam's. Then there are others who are treated like sex objects by their matrons who link them up with clients but take commission from each transaction. Although 10,000-odd women operate in categories, the lines are blurred for there are times when the streets and the beaches in Mtwapa and Mombasa are turned into open-air brothels. At Mtwapa, where a string of pubs have sprang up along the shoreline, the beach managers have erected a big notice board stipulating the acceptable behaviour and mode of dress. Mtwapa Beach Management Unit has come up with 14 commandments to order life along the shoreline for sustainable fishing and better livelihood in the area. Predictably the first commandment reads," Making love along the beach and in the waters is strictly prohibited," and is followed by another warning, "No walking along the beach without clothes." To further rein in on perverts, the beach code also prohibits consumption of alcohol and drugs in the ocean or relieving oneself in the waters. However, sex workers said there are times they lure their clients into the ocean where in the pretext of swimming they get intimate. And rather than try to ban the profession that is likely to push it underground and further expose sex workers to violence, ICRH and other public health professionals are trying to woo women and girls to adhere to safe practices and use PrEP and PEP medication so as to manage the high rate of HIV infection at the coast.