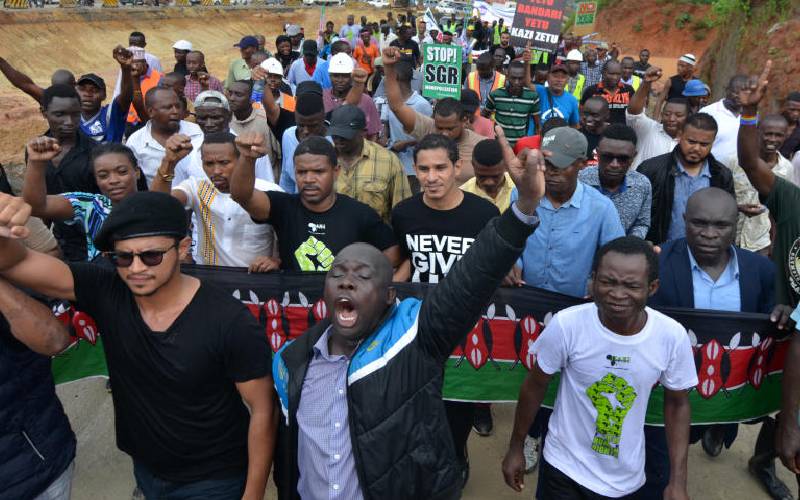 Weekly protests against a government order on freight services from the port resumed with a bang yesterday after a two-week break. Activists, who included three MPs, warned the protests will expand to Nairobi and other parts of Kenya to galvanise nationwide support for the struggling coastal economy. A September report by the University of Nairobi's School of Business showed that the introduction of Standard Gauge Railway cargo services with its concessionary rates and policies had shrunk Mombasa's economy by 12 per cent. The report indicated that 3,000 jobs had been lost in the logistics sector in recent months and projected a further 8,111 job losses in container freight stations (CFSs), transport companies, and clearing and forwarding firms.
SEE ALSO: China not funding SGR good for Kenya
On Friday, the High Court allowed the protests to resume as long as they were conducted peacefully. The court ruled that police have no right to stop lawful demonstrations.
BRAVED RAINS
The protesters, who were marching under the banner of Okoa Mombasa, braved heavy rains in the morning as they walked from the Makupa to Changamwe roundabouts. Mombasa Senator Mohamed Faki, Mvita MP Abdulswamad Nassir and Nyali MP Mohamed Ali accused the government of dishonesty when it announced the suspension of an order that favoured haulage of cargo from the Port of Mombasa by SGR. The edict was issued last month by Cabinet secretaries Fred Matiang'i (Interior) and James Macharia of Transport during a meeting with Coast leaders in Nairobi. Mr Faki claimed there was no cargo for truckers to haul. "We were cheated about the suspension of the SGR order. The suspension is on and off and road transporters do not get cargo. We want cargo owners to be allowed to choose who should transport the consignments."
SEE ALSO: Legal battles haunt Uhuru's multi-billion legacy projects
It emerged yesterday that the government was releasing cargo to CFSs in piecemeal hence starving road transporters of business. Container Freight Stations Association (CFSA) chief executive Daniel Nzeki said the nomination of containers to CFSs had not improved since the freight suspension was announced. "There is little cargo available to CFSs. We are still waiting for the government to address the situation which remains dire," said Mr Nzeki, who did not give figures. Following the meeting with the Matiang'i and Macharia, the Kenya Ports Authority said it was nominating at least 74 containers to each CFS. Activists, however, say this is not enough for the private warehouses which need at least 500 containers to operate profitably and revive the logistics sector.
SEE ALSO: SGR back on track in supporting Kenya's economic development
They also say the concessionary rates given to SGR are illegal and unconstitutional, and that the forces of free markets and competition should be allowed to control the logistics sector. Mr Nassir said the suspension of the SGR cargo order had not made any impact because trucks were idle, CFSs were empty and hotels, petrol stations, and rental houses had no business. "The economy of Mombasa and the Coast is in ruins. Residents are suffering because they cannot make money as they used to. Nobody can just protest in the streets without a good season," said Nassir.
PEACEFUL CELEBRATIONS
Mr Ali said: "That announcement was just meant to ensure Mashujaa Day was celebrated peacefully in Mombasa but there was no honesty on the part of government. We are going to hold demonstrations until the government allows other players at the port to get cargo." But acting Kenya Railways Managing Director Philip Mainga blamed unnamed individuals and companies with interests in the port business for instigating the protests. "What we fail to understand is the continued agitation yet no less than the Cabinet Secretary for Transport pronounced himself on the matter a few weeks ago. He asked for sobriety and consensus-building in finding an amicable solution," Mr Mainga said. He added: "What we are witnessing now is an orchestrated, sinister strategy by the disgruntled and unscrupulous port cartel. They will fail in that scheme; this you can take to the bank." Fast Action Business Community Movement chairman Salim Karama said they would take the protests countrywide. Mr Karama spoke as he thanked Walter Opiyo and Oloo Gor from the Homa Bay Bunge la Wenye Nchi and Kilifi human rights activist Leah Akech for joining the protest. "We are planning to hold protests in towns along the Mombasa-Nairobi highway that have equally been adversely affected by the SGR, and eventually in Nairobi and other areas. Kenyans are hungry after SGR took all the port business. This is going to be a countrywide movement," Karama warned. Haki Africa Executive Director Hussein Khalid said: "We reject the plan to force Mombasa to carry the burden of Chinese loans. We are telling the government we are not ready to carry the economic burden on behalf of the country. We are tired of being discriminated against economically." Muslims for Human Rights chairman Khalif Khalifa said they would continue with the protests until the cargo was shared equally among all the players. "Let those who borrowed Chinese loans pay from their own pockets. They should not kill the economy of the Coast region because of their individual interests," Mr Khalifa said.