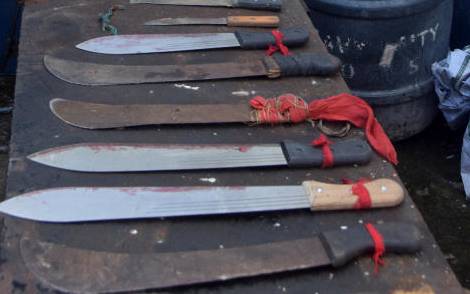 Detectives in Mombasa have intercepted a car which was ferrying crude weapons with apparent intent to commit a crime within the coastal city.
Three occupants of the Toyota ISIS car took off immediately after the officers flagged off the car which was headed to Mombasa Central Business District at Nyali bridge roadblock.
Although police allege they saw three men fleeing the scene, there are reports the car had more occupants.
Nyali sub-county Police Commander Simon Thirikwa on Monday said the police upon searching the car which was travelling from Bombolulu towards town centre recovered three machetes that bore bloodstains.
Read More
The incident comes barely a week after police busted a gang of 15 dubbed "Wakali Chee" in their hideout in Bombulu area and seized seven machetes.
Officers manning the roadblock had stooped the vehicle at around 8 pm during their normal police check.
The suspects, according to area police boss took off prompting the officers to conduct a thorough check hence stumbling on the weapons stashed in a bag.
"Police gave a chase to the suspects but no arrest was made, upon searching they managed to recover three machetes, one having bloodstains," said police boss who added that "we suspect the occupants of the car were travelling to someplace to commit a crime.
He said a woman who claimed to be the owner of the vehicle had come to police claiming that her grandson had taken the vehicle for an errand.
He advised the directorate of criminal investigations , DCI to probe the matter and established the occupants and their motive.
The vehicle was towed to Nyali police station.