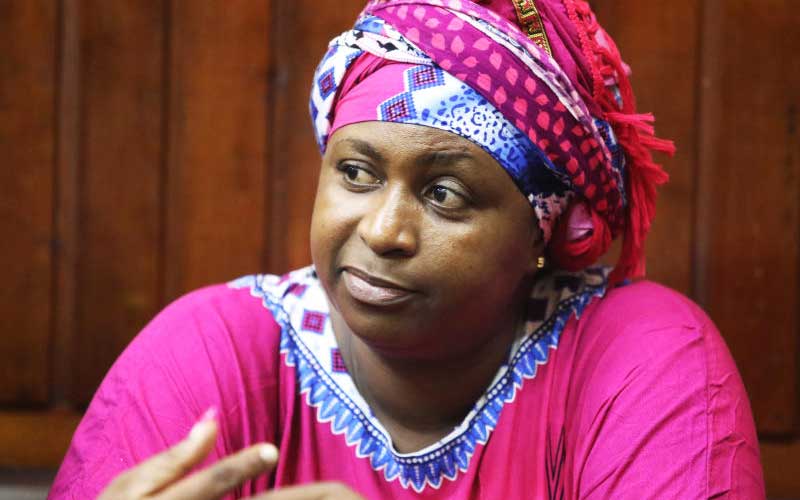 A section of Malindi residents have started collecting signatures seeking to oust their MP Aisha Jumwa (pictured) terming her as disrespectful and a non-performer. The group revealed the ouster plan during the swearing-in ceremony of Ganda ward MCA Reuben Katana at the Kilifi County Assembly, Malindi. Malindi ODM women coordinator Riziki Baya said the process will start immediately and urged many to append their signatures.
SEE ALSO: Why rising impeachment cases threaten governors' obligations
"We are tired with her, especially, after she caused the death of one us just because of a simple ward by-election. She has ashamed the people of Malindi not only in Kilifi County but in the entire nation," she said. Baya accused Jumwa of staging a one-man show in running the constituency development fund, adding that she was using her influence to erroneously award tenders. "There is no development in Malindi and people are shocked that all tenders and work are awarded to family members". Her sentiments were echoed by Benard Nyiri from Kakuyuni who said Aisha had engineered her downfall. "Despite bring forgiven by the party, she still went ahead and did the wrong things and now we want to get the signatures as fast as possible so that she can leave the Malindi political scene for good," he said.
SEE ALSO: Baba is recuperating well in Malindi after surgery, say MPs
A resident of Ganda Elina Charo accused Jumwa of under-developing the area saying that she was discriminative. Former Malindi MP Wily Mtengo said that the journey for a Malindi by-election was on course and opponents should brace for a fight. "We are in ODM to stay and because she chose the opposing side then we shall ensure that she goes home and Malindi gets their rightful representative in parliament," he said.
Defecting
Members of the Kilifi County Assembly led by majority leader Adamson Mwathethe said that Jumwa had technically defected from the party when she decided to campaign for an independent candidate.
SEE ALSO: Waiguru blames Kibicho for budget impasse, political hostility
"…signatures are being collected and will be taken to IEBC for verifications and we urge Parliament to vote for her removal," he said. He added, "We had hoped she would reform and work for the party but all she did was to continue disrespecting the party and she even told Gideon Mungar'o to remove the party attire and now it is her turn," he added. Efforts to reach Jumwa for comment have been futile as she neither responds to calls or text messages.