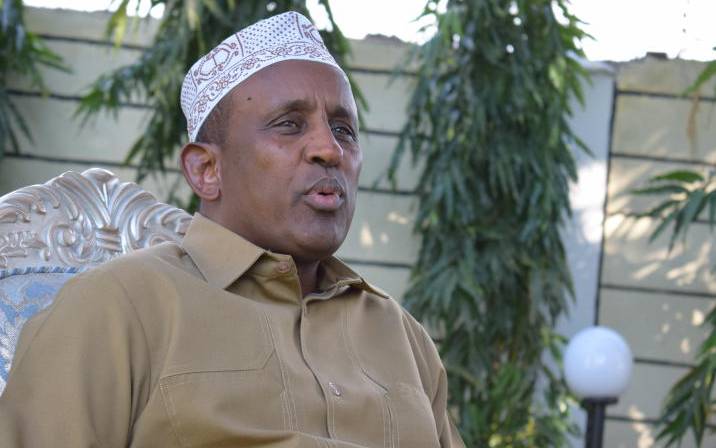 A company owned by tycoon Ashok Doshi wants Garissa Governor Ali Bunow Korane (pictured) held liable over alleged fraud in a multi-million Kenya Airports Authority (KAA) land acquisition.
According to Ethics and Anti-Corruption Commission (EACC), the said land was fraudulently acquired by Korane and RainyDays Limited, owned by the Doshi family.
The anti-graft agency claims the land had been allocated to KAA for the development of Moi International Airport but was illegally-acquired by Korane and Doshi's family through their companies RainyDays Limited and Adroit Developers Limited respectively.
EACC has sued Korane, Ashok Doshi, Mahesh Doshi, Wilson Gachanja (former Commissioner of Lands), RainyDays Limited and Adroit Developers Limited.
However, in an application filed on Tuesday in Mombasa before Justice Silas Munyao, Doshi through his lawyer Willis Oluga, said Adrot Developers Limited was not privy to any illegality when it bought 0.06993 hectares of land from Korane in April 24, 1992 for Sh1.146,000.
"If there is any fraud committed in the process of first allocation and acquisition of the suit property, the same must have been committed by the original allottee - Ali Bunow Korane - who EACC has absolved from any blame," said Doshi.
Adrot Developers Limited later sold the said land to RainyDays Limited in February 26 2007.
Doshi wants the High Court to issue permanent injunction restraining KAA and EACC from interfering with the said suit property.
Doshi also wants Korane to compensate him at the current land rates in the event that the High Court determines the suit land was illegally-acquired.
He said EACC suit against RainyDays Limited is driven by malice because it wants to sacrifice them while letting off the hook Korane whereas he would be the one to otherwise explain how the title of the said land was acquired.
Doshi said that the legal suit against RainyDays Limited cannot stand after EACC consented to remove Korane from the case in March 25, 2019.
"The suit cannot stand as against Ashok Doshi, RainyDays Limited and Mahesh Doshi because EACC has consented to the removal of Korane from the suit that was the original allottee of the suit property and the appropriate person to explain how he procured the title in the first place," said Doshi.
The commission also accused Gachanja of illegally-allotting the suit premises to Korane.