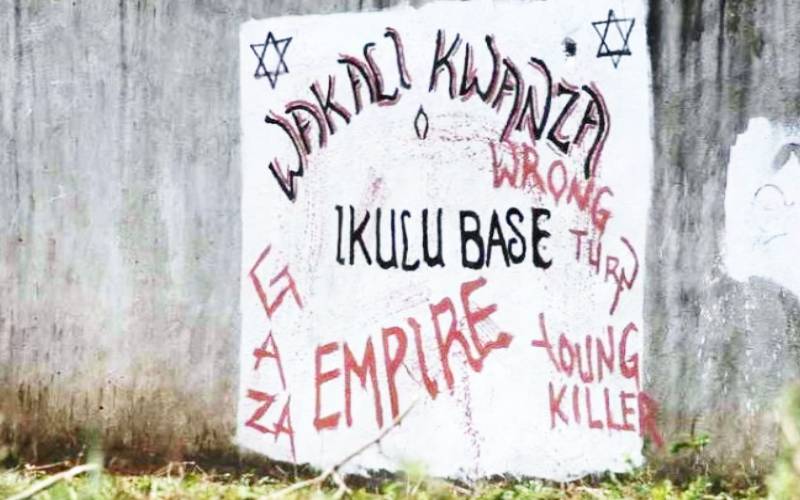 Kenyans are shocked by the acts of a gang in Mombasa that hacked residents in three attacks for close to three hours Monday night. All that time there was no response from security agents. Monday was a night of terror for Kisauni residents after nearly 30 knife-wielding attackers roamed freely, slashing helpless locals, looting and pillaging from about 8pm with no police in sight. The attacks, which appeared to have caught the State's security agencies by surprise, were well-coordinated.
SEE ALSO: Teams laud crew change at port
The attackers were on foot or riding on motorcycles and trucks in which they loaded goods robbed from shops and supermarkets. Victims said despite frantic calls being made to the police, it took officers close to three hours to respond. And they only arrived after the attackers had left. Police yesterday announced the arrest of four suspects linked to the violence. They also claimed to be pursuing six others, though residents reported that tens of attackers were involved in the violence. Police and witnesses said the attacks started simultaneously in three different areas of Kisauni and Nyali sub-counties before sweeping across the main highway to Malindi. The first assault was reported in Lake View, Kisauni, where Tabu Katana, Reuben Kakai, Samson Juma and Julius Mutiso sustained deep cuts on their heads.
SEE ALSO: More police officers deployed as construction of Nairobi Expressway starts
The second wave began at Malindi Stores in Nyali, where the attackers seriously injured Dickson Nyongesa, Joran Isigi and Justus Musumbi. A police report said the three sustained head, arm and neck injuries. The third attack started at Bamburi Mwisho, where Said Mohamed and Jane Wambui's faces and heads were slashed. Witnesses said the three groups were dropped off at the three different areas by a lorry that they later used to ferry their loot from the crime scenes.
Brutal attacks
The injuries of the victims admitted to the Coast General Hospital, who were slashed on their heads, limbs and torsos, showed the indiscriminate nature of the brutal attacks.
SEE ALSO: Tycoon ordered to repay Sh1.8b in shady land deal
Coast Regional Coordinator John Elung'ata said the violence was a retaliatory attack for the Sunday arrest of six drug barons. The police had arrested two suspects in Kisauni on claims of trafficking drugs worth Sh12 million. One was taken to court where he denied the charges while the other suspect is yet to take plea. Mr Elung'ata also linked the attacks to the perennial land problem in the sprawling Kisauni's slums, as well as 2022 succession politics. He did not elaborate on what basis he made the claims. "We are investigating all the motives but initial reports indicate that the drug barons we arrested with about three kilos of heroin were behind the attack," he said. Elung'ata ordered the police to shoot on sight any gang member found in possession of a knife. The county's Police boss Johnston Ipara held a security meeting in Kisauni, where he said security agents had gathered enough intelligence to enable them to arrest more suspects. It was not clear whether police had viewed footage from CCTV cameras on the roads used by the gang members. Anxious residents, however, demanded answers over the failure by intelligence agencies to predict the attack and enable police to intervene in time. "We are trailing the suspects. We have changed tactics and we are now conducting an intelligence-led operation so that we do not victimise innocent and law-abiding citizens," said Mr Ipara. Police also ruled out the involvement of members of the Wakali Wao and Wakali Kwanza gangs in the attacks. The ferocity of the attacks also caught health centres off-guard. Hours later, dozens of victims from Kazandani, Kwabulo, Bashiri and Mwandoni were lying unattended in private hospitals nursing deep cuts. "They parked the lorry in front of our shop, came inside and beat up my mother before carting away items, including a refrigerator, into the lorry," said Sumeya Karianto, a resident of Kwa Bashiri area. Her mother Pauline Mkatha was lying in her house with swollen arms. She was also hit on the head and back but despite being in pain, she had failed to raise money for a CT scan to rule out internal injuries. "She was given first aid at Prime Hospital, which wanted to carry out some scans but we cannot raise Sh10,000 because we were robbed of everything," said Ms Karianto. Joseph Kaberia, a Bamburi vendor, was slashed across the face, chest and hands. By yesterday, he was still lying unconscious at the Coast General Hospital's emergency wing.
Surrender valuables
His brother Nicholas Kimathi said they had finished selling khat and were headed home when they were accosted by about 25 armed men, who demanded that they surrender their valuables. "They ordered us to remove everything we had inside our pockets and stay calm. But after handing them everything, they started to slash my brother as I scampered for safety," Kimathi said. Samson Kithi, 32, said he was loading timber on a lorry in Bamburi when he was attacked by men wearing helmets and masks. "They slashed me on the head, neck and abdomen before they walked away. They did not demand for anything," said Kithi, who received first aid at Yeshua Clinic. Dickson Nyongesa, 27, said the attackers wore hoods and black T-shirts, with black bandanas tied on their heads and arms. "They surrounded us while armed with axes and machetes and robbed us of Sh12,000 and our phones. I thought that by giving them money they would not harm us," said Nyongesa. Coast General Hospital nursing officer Antony Mogaka said they had received 11 victims, including a 19-year-old woman."Seven of the victims were treated and discharged, while four are still under the doctors' watch," said Mr Mogaka, adding that the four were badly injured. Residents' disbelief and anger was heightened by the fact that the violence started just 100m from Kadzandani Police Station and 200m from the Kisauni chief's camp. Haki Africa, a human rights group, yesterday termed the attacks a breakdown of law and an indictment of the intelligence community.
Help police
The organisation's officials asked locals to help police apprehend the attackers. "We ask the county government to order that all premises in the main streets be fitted with CCTV cameras so that incidences such as these can be captured on camera," said executive director Hussein Khalid. The estates that were attacked are situated about five kilometres apart. They are surrounded by about six police stations and several chiefs and sub-chiefs' camps.