Six fishermen rescued after Lamu boat capsize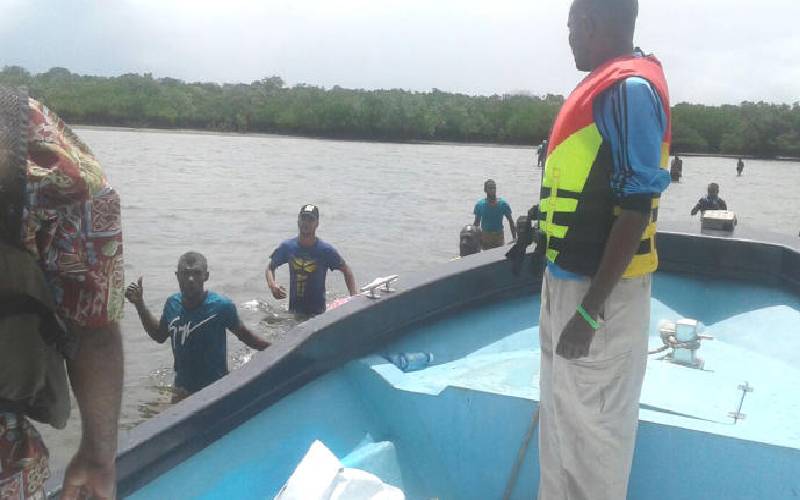 Six fishermen were rescued by their colleagues after their boat capsized at Tezali, off Pate island in Lamu.
Strong waves had been flowing across the Indian Ocean before the accident occurred. The wooden dhow christened 'Usongo' capsized during a fishing expedition.
Kenya Maritime Authority (KMA) director general George Okong'o confirmed that the six fishermen had been rescued last evening.
Mr Okong'o commended Manda Bay resort, local fishermen, KMA personnel and marine police for the successful rescue.
The rescued fishermen are Hussein Sadi, Ali Jangwa, Ismail Ali, Ali Kesi and two others who were identified only as Aboud and Abubakar.
The dhow has not been recovered owing to the strong tides. "The six fishermen are safely resting in Shanga village. The boat could not however be recovered because of the bad weather," said Omar Shamina, a village headman.
Okong'o said KMA has dispatched a team of its top search and rescue personnel to the ocean to prevent such accidents.
He said the team is working with marine police.
Okong'o however said the operation was being carried out cautiously due to the bad weather.
On Sunday, KMA issued an alert on strong winds and tides in the Indian Ocean and cautioned fishermen against venturing to sea.
In April this year, two people were reported missing after a cargo dhow capsized at Mlango wa Pate in Lamu East sub-county.
The boat called Foza was reportedly carrying construction materials from Mokowe jetty in Lamu West sub-county.