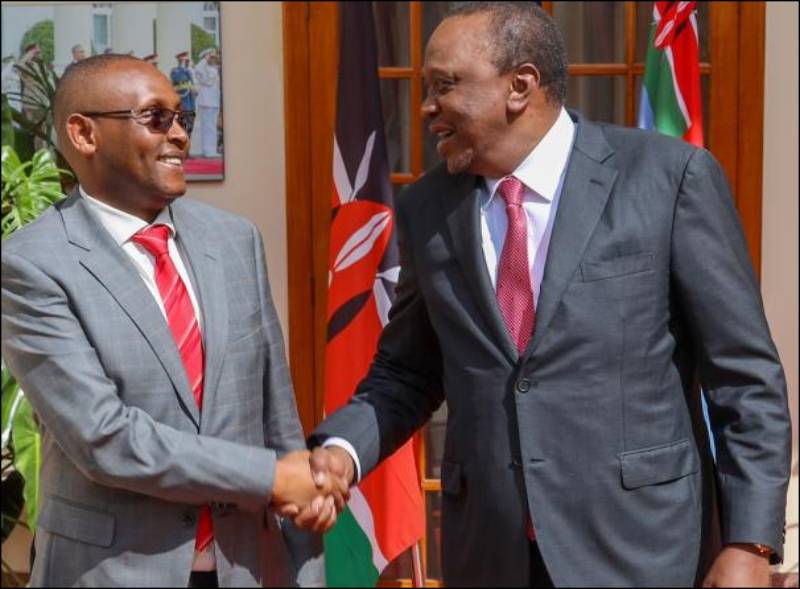 Buoyed by exclusive and high profile talks with the country's political honchos -- in a span of a week -- Taita Taveta Governor Granton Samboja has essentially taken the wind out of MCA's sails. And with a spring in his step, the man who wiped his way to victory but is now darting with Oranges, says his bid to dissolve the county assembly is unstoppable. The meetings with Wiper Democratic Movement leader Kalonzo Musyoka, Orange Democratic Movement's Raila Odinga and a crowning one with President Uhuru Kenyatta have left Taita Taveta MCAs clutching on straws in their battle with the governor.
Emboldened resolve
SEE ALSO: 2022: Raila purges top ODM organ
And neither is he hiding his emboldened resolve to twist the knife in the MCAs' wounds for frustrating his plans for the county. "Nothing can stop this process. At 38,000 signatures as of Monday this week and still going, this process is unstoppable," Samboja told
Saturday Standard
while scoffing at calls for a dialogue. "I have received hundreds of calls asking me to give dialogue a chance. But then, how do you initiate dialogue with individuals who have put their cards under the table?" With claims that the meetings were scaring the MCAs, Samboja countered that they have no clue what his game plan entails. He said he will be announcing his next move in two weeks. "I doubt any responsible leader can decide to scare MCAs at the expense of the thousands of voters from my county who believed and gave me a chance to lead them as governor," he said.
SEE ALSO: Roving youth eye property in Taita ranch for destruction
Choosing his words carefully on the proceeds of his meetings with the leaders, Samboja gave a veiled indication that they backed his initiative with a claim that they supported devolution "100 per cent". "We have taken a collective approach on this issue of dissolving the county government. "We cannot run a county through blackmail and intimidation, so yes, we are ready to seek a fresh mandate from our people," he said. However, when pressed on specifics of his meeting with President Uhuru, he went to regurgitate a presidential communication which talked of Big 4 agenda, handshake and graft purge. He dithered on whether he was planning to ditch Wiper in case fresh elections are called.
SEE ALSO: Raila calms tensions in Nyanza over 2022 polls
Earlier, he had been quoted giving every indication that he was done with Wiper. "I am now in ODM and working with ODM party leader in the spirit of the handshake," he had said. But yesterday, he brushed the question aside, claiming that the matter at hand was more pressing than politics. In Taveta, where talk of planned impeachment motion against the governor has been doing rounds, MCAs were still reeling at his moves. With the governor now working with ODM top leadership, the assembly, which has majority ODM MCAs feels conned. ODM Chief Whip Abraham Juma says MCAs felt that the party's leaders had abandoned them by only meeting the governor. "The NASA principals have taken sides on the budget standoff by only meeting the executive. "They (Raila and Kalonzo) should have also met us to get our view so as to make an informed decision on the matter," stated the Kasigau Ward Representative. Truce attempts Juma now says they decided to look to Deputy President William Ruto after the NASA leaders abandoned them at the time of need. Senate Majority Leader Kipchumba Murkomen, a close ally of the DP, has been attempting to negotiate a truce. Jubilee Nominated MCA Reverend Frank Mmare however blames internal and external forces for the standoff. Others like the County Speaker are accusing the governor of acting hastily. "There is no political angle or motive on the impasse. The governor made a hasty decision to start collecting signatures," said Speaker Meshack Maganga.