Kilifi security team grills MP for his 'not yet uhuru' remarks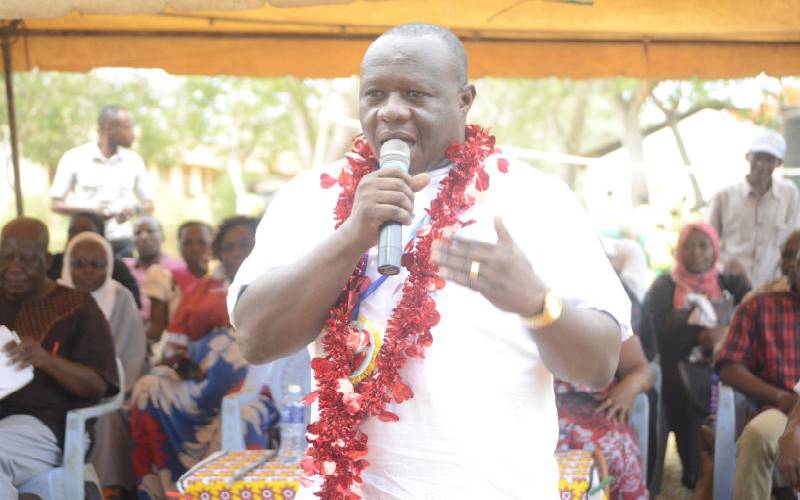 Kilifi North MP Owen Baya was yesterday grilled for three hours by the Kilifi North sub-county security team over his Madaraka Day speech.
In his speech, delivered at Karisa Maitha Grounds, Baya is said to have told his audience that Kilifi people were yet to acquire madaraka (self-rule) because they have not won their land rights more than half a century after independence in 1963.
According to the security team, Baya's speech was "incendiary and inciting" for suggesting that only ethnic Mijikenda, Swahili and Arabs should own land in Kilifi County.
MP's speech
The MP is alleged to have said: "We will not allow someone who is not a native of this county to evict people from their ancestral land. If you go to Nairobi to process a title deed for land you do not know its location, you will remain with your title but you will not settle in Kilifi North. We are tired of these evictions from our land."
He is also alleged to have said: "Kenyans got a chance for internal self rule and as the people of Kilifi we have the freedom to oversea our own issues. But even the power over land that has been given to us by the Constitution is still being implemented somewhere else something that is disturbing us as leaders."
Another statement cited by the security team was: "Individuals are coming from other places saying that they own land and demanding that our people be evicted. Culturally and traditionally Kilifi belongs to the Mijikenda community and other communities that have been here since time memorial-the Arabs and the Swahili."
The statements were, however, construed as incitement by the security team prompting Kilifi North Deputy County Commissioner Josephat Mutisya to summon the MP.
Among those who grilled the MP were Kilifi North sub-county police boss Njoroge Ngigi as well as officers from the Directorate of Criminal Investigations and the National Intelligence Service.
Addressing journalists after the grilling, Baya denied that the statements were inciting, saying he was referring to fraudulent acquisition of land.
"My statement was based on the rampant and reckless eviction of our people. The security team feared the statement could send jitters to non-locals who genuinely own land in Kilifi but I explained to them that I was referring to those who fraudulently obtain land in Kilifi. Those are criminals that we will not entertain and we have agreed to work with the security team to tame land fraudsters," said Baya.
MP's explanation
The Kilifi North deputy county commissioner said the security team was satisfied with the MP's explanation.
"We were a bit worried that the statement will bring friction in term of security management and would incite the locals against non-locals. He has explained himself well and we have agreed to have many engagements to make sure people are not disturbed because of unnecessary evictions," said Mr Mutisya.
He pledged to ensure that all evictions in the ares were legally executed.
"We will make sure court orders are authentic by carrying out investigations from the same court they were issued before executing them," said Mutisya.
"We agreed that it is a bigger problem, which we need to get to the root of," he said.