Ex-MP Mungatana charged will economic fraud in Malindi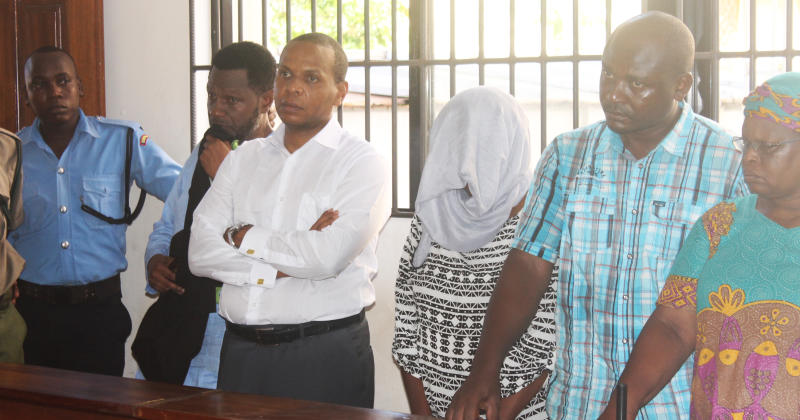 Former Garsen MP Danson Mungatana was yesterday charged with several economic crimes, including fraudulent electronic money transfer from the Kilifi County Government.
Kilifi Governor Amason Kingi, whose administration was rocked by the 2016 financial scandal leading to the current charges, is listed as the first prosecution witness.
Reports indicate that Mr Mungatana was arrest in Nairobi on Wednesday and driven to Malindi overnight. He was arraigned in a Malindi court yesterday. It is also suspected that his trial will be transferred to Nairobi after he pleads to the charges.
According to the prosecution, the former assistant minister, who is also a lawyer, is also a director of two companies that fraudulently received Sh51 million from the county government through the Integrated Financial Management Information System in 2016.
Mungatana, together with six other suspects, denied 40 counts of economic fraud charges levelled against them before Malindi Chief Magistrate Julie Oseko. He is facing eight charges.
They were charged that on diverse dates between September 2016 and October 2016, they conspired to commit an economic crime by dishonesty facilitating payment of Sh5,390,520 from public revenue to Zohali Services Limited for services not rendered.
Mungatana, Lucy Wanjugu Kibogo and Benaya Kisaka Mugavana, being directors of Jahazi Investment, were also charged with fraudulently receiving Sh6,102,950 from the county government of Kilifi.
Only seven of 26 suspects appeared before court to face charges. The court summoned the rest.
Kibogo, Mugavana, John Kahindi Kalume, Paul Teido Mwazo, Josephine Felix Muramba and Ebrahim Mwanje Zia appeared before the court together with Mungatana.
Mungatana's lawyer Ndegwa Njiru had applied to defer the plea on grounds his client was still mourning the death of his wife.
"We have been ambushed with this charge sheet. My client just buried his wife on Saturday and since customary law says a person who loses a loved one is given a grieving period, he cannot make an informed decision due to the loss and so we urge the court to defer the plea. He should be given at least two weeks to mourn his wife noting that he is the only parent left with young children," said Ndegwa.
Prosecution, led by Assistant Director of Public Prosecution Renson Ingonga, however, opposed the application, saying investigations were over.
He also proposed that the accused persons be released on a Sh10 million bond, citing that the nature of the crime was serious.
Ndegwa faulted the prosecution for suggesting the Sh10 million bond.
"We pray that the prosecution does not guide the court on bond terms but it should only help the accused to appear in court," said the lawyer.
Senior prosecuting counsel Victor Alenga said the accused was fit to stand trial.
The magistrate ruled that the plea should go on.
"The learned person is not a Pokomo elder who should know the customs of his client. It would be unfair to defer this plea at this moment. All accused should take plea today," she said yesterday.
Ndegwa prayed that his client be released on a personal bond and two sureties since he was an advocate of the court and appeared frequently in the jurisdiction of the court.
"He is the only parent remaining after the death of his wife, who was buried on Saturday, and his continuous incarceration will negatively affect the children who are still in mourning mood," he said.
The accused were released on Sh5 million bond each with an alternative of Sh3 million cash bail.
The case will be mentioned on May 2.