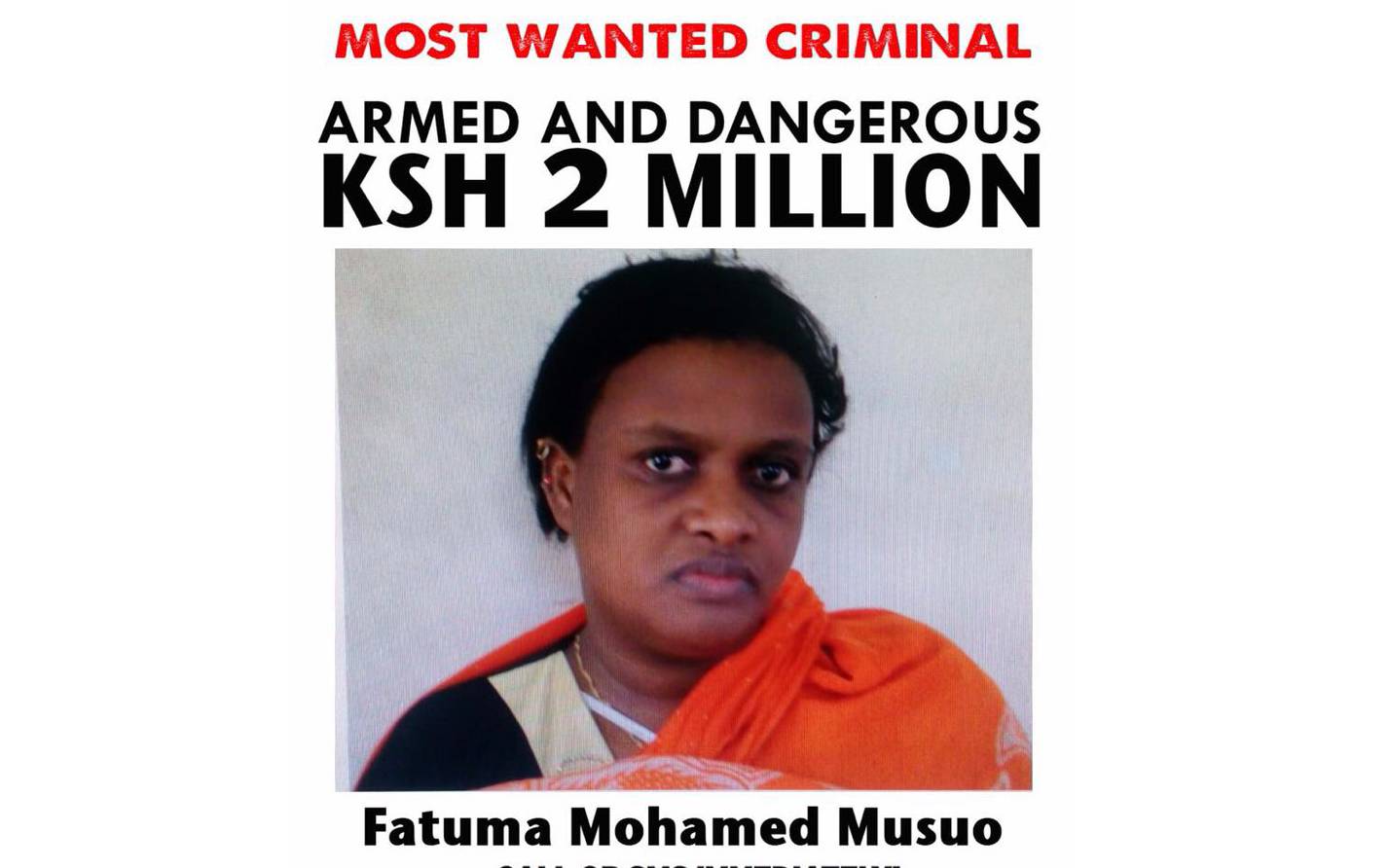 Fatuma Mohammed Musuo left her home in Siyu Island for Mombasa to live with relatives and get a shot at a life better than the one she had left behind.
In the decade that followed, she got embroiled in the murky world of Al Shabaab men, marrying three of them in unions that always ended tragically.
No one really knows how she met her first husband.
"She just told us that he had met a man and the two of them were living as husband and wife," one of Fatuma's siblings told Sunday Standard. No other information was forthcoming from their estranged sister.
"Whenever we tried to prod her she was coy, just telling us that the man was from Nyanza and that they planned to have a family," the sister says.
The Musuo's were close knit. They took social life seriously. When Fatuma told them that she had already gone in the family way and wanted neither attention nor ceremony, they were shocked at this gross deviation from the Swahili way of life she had been brought up in.
Fatuma stopped communicating with her family. She no longer participated in social events such as weddings and funerals. She was closed up. But even in this isolation, she was sporadically reaching out to another of her relatives.
Broken life
"When she got her fourth child, I decided to visit," the relative says. "She looked to be struggling. The house had no furniture and only had the mattresses in the different rooms. No radio, no television. Even the kitchen had no food," she said.
Later that evening as the relative left, she was heartbroken.
"I cried all the way to Malindi," she says. "My sister was living a completely broken life."
In reality, though, Fatuma and her husband had deliberately chosen this way of life. They could never be too comfortable and were always ready to go anytime they heard an unfamiliar knock on the door.
The man from Nyanza that the Masuos had been told about and who eventually married their daughter was Kassim Omolo. Details of how and when the two met remain scanty, but Fatuma's relatives said he was struck by Fatuma's Bajuni beauty, her silky hair, full lips and round eyes under which dark patches would develop after years on the run.
On her part, she was attracted to Omolo's dare devil nature. Multiple interviews show that after she knew about his exploits as an Al Shabaab explosives expert, she was smitten.
Together, the two became a modern day Bonny and Clyde, collaborating on a number of projects in Mombasa and were part of the numerous grenade attacks that took hold of the coastal city in the wake of Kenya's incursion into Somalia.
Kassim was wanted for the 1998 US embassy bombings and his alleged ties to the bombing's mastermind Fazul Mohammed, whose wife was from Siyu, Fatuma's home island.
Their roller-coaster relationship came to an end in June 17, 2013 when a team of anti-terror police raided their home in Mombasa's Kisauni estate. Omolo was shot dead in an exchange of fire.
When Omolo was away, Ismael Mohammed Soshi was making himself comfortable in Fatuma's Kisauni flat.
Shosi was the main suspect behind the killing of CID officer Mohamed Ibrahim, who was guarding a bank in Bondeni on March 25. He was known for carrying out attacks while dressed in a hijab and had become a feared operator.
The two hit it off, and former neighbours said that Soshi would pass by Fatuma's house on random evenings.
"He could be spotted on the verandah of Fatuma's house in the evenings," a source told Sunday Standard, the two chatting late into the night enjoying the breeze of the coastal city.
Fatuma's family though insist that there was nothing between them other than friendship.
Soshi's family says their son was never a terrorist, and the police was wrong in killing him in his house in Kisauni in September 2016. After this, Fatuma went on the run, abandoning her four daughters in pursuit of her freedom. She ran into the embrace of Farid Awadh, also wanted on terror charges.
Police alleged that Farid, called Faridi by his friends, was trained by Al Shabaab militia in Somalia and that he worked with Soshi at some point.
Closing grip
Faridi and Fatuma lived together in various parts of the country for close to a year after the death of Soshi. There were no verandah moments as they tried to stay ahead of a fast closing grip on them by the country's anti- terror police units.
On April 16, 2017, the bodies of both Fatuma and Faridi were found somewhere in Naivasha.
Fatuma left behind four daughters who went to live with family first in Siyu, and then to a grandfather in Somalia. The eldest daughter, now 17 and who witnessed the assassination of her father Kassim, is no longer under his care.
Family members fear she could have joined the terror group, hoping to avenge the death of her parents.