Locals in Kauma Sub County vow continue blocking roads-protest enters 2nd say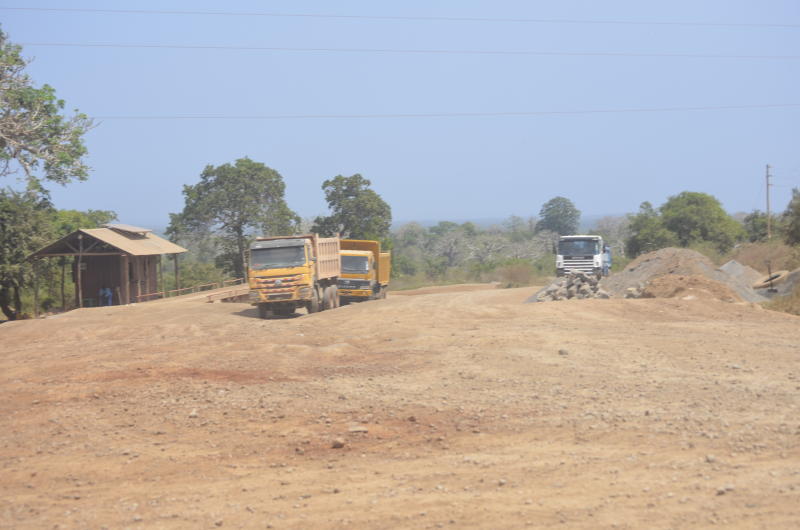 Residents of Jaribuni, Kauma sub-county yesterday blocked roads to protest the presence of trucks ferrying ballast stone.
The residents had given quarry owners and transport companies operating locally 14 days to address the issue.
However, Ganze deputy County Commissioner Richard Karani, who is also in charge of the Kauma sub-county, said the issue had been resolved and warned protesting residents that they risked being arrested.
"We are appealing to the youth not to block the roads because this will affect other people going about their work. Anyone who will do this will face the law," said Karani.
But speaking during a meeting at Barrier trading centre, the residents said they would only remove the logs and stones from the roads after reaching an agreement with stakeholders in the ballast trade.
"You will not use our roads if our plight is not addressed," said Nixon Nyoka.
Sprinkle water
The protest began on Monday when residents of Majajani and Jaribuni took to the streets accusing transport companies and stone quarry owners of not honouring a pledge to pour water on dusty roads.
The protests paralysed transport on Jaribuni–Dzistoni and Jaribuni–Majajani roads. Roads leading to quarries were also blocked.
Jaribuni ward representative Maitha Masha accused the quarry owners and stone transporters of subjecting residents to health hazards.
"They are the reason why our people are protesting. Some of them never attend our meetings at all," said Ms Masha.
County chief officer for Environment Mariam Jenebi said the residents had raised the issue with the department, leading to a stakeholders meeting.
Ganze MP Teddy Mwambire said the residents had given the transporters enough notice.