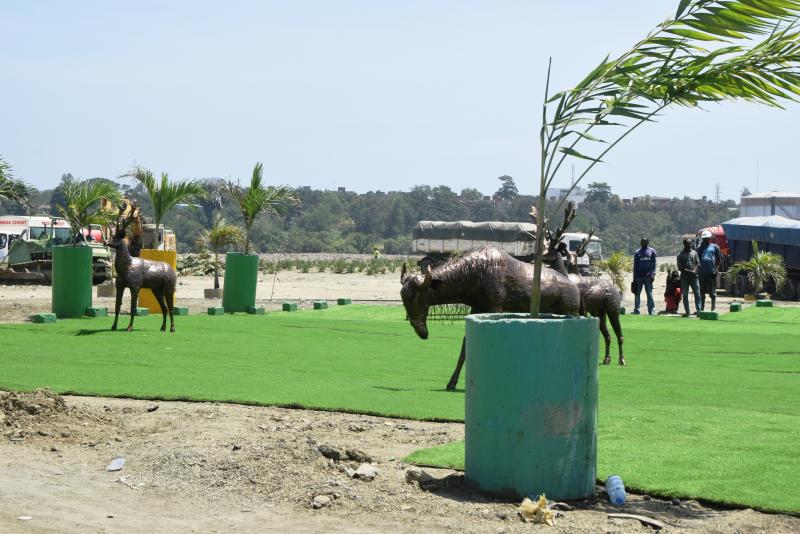 The choking stench, acrid smoke and scavengers by the causeway are no more. In their place is bubbling life as players work in concert to plant casuarina and leafy palms.
Government and private players are determined to reclaim the lost glory of the tourist city of Mombasa, with all eyes set on regeneration of the decommissioned Kibarani dumpsite.
After 50 years of it being an eyesore, the dumpsite that hugs the Makupa causeway and the old railway line, has been closed down and the site transformed into a recreation park.
Land grabbing
Read More
Thousands of Indian crows have left and several private developers who had acquired the seafront plots are now on notice to quit.
In a recent visit to the former dumpsite, Mombasa Governor Hassan Joho promised a new face of the causeway within six months following intensified efforts to develop the recreation park.
"In the next six months, the former dumpsite will be a different place and it might confuse you," he assured.
Mombasa Cement is one of the stakeholders credited with the beautification of the area that was once a source of conflict among government agencies, who opposed dumping of toxic waste into the sea and grabbing of surrounding public plots.
Apart from Kibarani, the county and national governments are carrying out the regeneration of Mama Ngina waterfront at a cost of Sh460 million. This project is expected to be completed in five months.
President Uhuru Kenyatta launched the construction work last month and ordered the Ministry of Lands and National Land Commission to repossess grabbed land.
While leading a government and United Nations (UN) delegation to Kibarani this year, Joho acknowledged that despite challenges, the site was taking a new shape after carrying out some paint work and dumpsite relocation.
The governor said the President has been closely following the progress of the regeneration of both Kibarani and Mama Ngina.
Sensitive ecosytem
He was accompanied by UN bosses Juliet Biao, Cyrille Razare Siewe and the National Environment Management Authority chief Prof Geoffrey Wahungu.
"The former dumpsite is going to be one of the most beautiful sites in the region upon completion," said Joho.
Wahungu applauded the ongoing regeneration work, saying it would soon restore the beauty of the tourist city. "It has not been easy walking the path to strengthen each other and to enable the county government launch on its goal of the beautification of the place".
Wahungu said the results achieved so far are due to consultations and working with other stakeholders.
Mombasa County Executive for Environment Nyongesa Nato said the dumpsite that was decommissioned last year has been in existence for mover 50 years, sitting on sensitive marine ecosystem.
"The beautification process has started with the planting of trees by a multi-agency team," he said.
Nato said several stakeholders are helping the county government in the initiatitve.