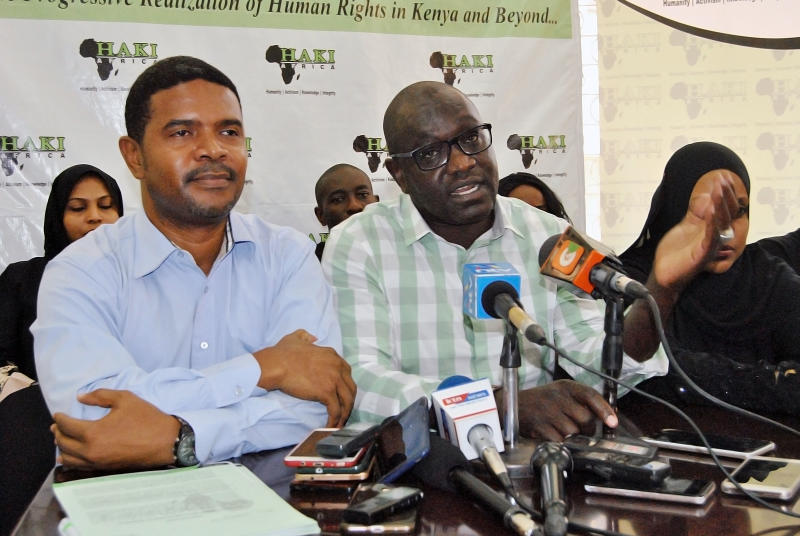 Human rights crusaders have called for an inquest into extrajudicial killings and forced disappearances.
Thirdway Alliance leader Ekuru Aukot and Haki Africa Executive Director Khalid Hussein also called for the expansion of the Bill of Rights in the Constitution to recognise extrajudicial killings and disappearances as human rights abuses.
The two said while efforts by Director of Public Prosecutions Noordin Haji to address killings were welcome, the security sector should support such endeavours since the situation was getting out of hand.
While reading a joint statement at the Haki Africa offices in Mombasa yesterday, Dr Aukot said human rights violations had been reported countrywide, and called for the immediate redirection of the national debate from constitutional referendum to "wananchi and their bread and butter issues."
"The Bill of Rights should be expanded to recognise extrajudicial killings and disappearances as human rights abuses. Provisions should be put in place to ensure these issues are addressed adequately including compelling the authorities to deal with them urgently," they said.
Read More
Dr Aukot and Hussein told Government and Opposition leaders to stop "politics of deception and diversion" and instead implement the Truth, Justice and Reconciliation Commission (TJRC), Ndung'u, Waki and Kriegler reports instead of pushing on with the Building Bridges initiative.
Haki Africa recently presented a petition on 37 cases of killings and forced disappearances to the Director of Public Prosecutions.
"What ails Kenya is already known and contained in various reports," he said, adding that politicians were getting compromised for purposes of getting jobs and for political reasons.
Meanwhile, the Thirdway Alliance leader criticised the Aden Duale Bill in Parliament seeking to amend the Constitution to achieve equality between men and women, saying it was pretense and inadequate.
"We want women to be 50 per cent in Parliament; women should not be subjected to tokenism. The Duale Bill proposes to equalise men and women in leadership after a 20-year period. Women cannot be subjected to probabilities; they need respect and equality now," he said.