Italian volunteer still missing 64 hours after raid in Malindi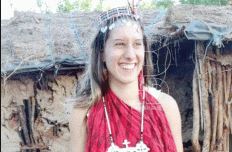 Syllvia Constance's abduction has baffled local residents. There has been deafening silence from the police and the military on why she has not been located or accounted for close to 64 hours after she was snatched from Milele Africa orphanage by gunmen.
The 23-year-old worked for Africa Milele Onlus, a non-governmental organisation operating in Chakama, Malindi, where the orphanage is located.
Several orphans and employees were shot and wounded in the attack. Local police said they suspected robbery and abduction as the motives and stridently ruled out terrorism.
Last evening an officer who asked not to be named told The Standard that officials were exploring the possibility that the attackers holding Ms Constance had a terrorist motive and were trying to cross with her into Somalia. He also confirmed that security teams had been sent to Lamu to search the area.
Get her alive
Al Shabaab and allied groups are active in Lamu and areas bordering Somalia.
Yesterday morning, Coast Regional Commander Noah Mwivanda delivered grim news when he announced that security officials had no idea where Constance was being held.
"Our officers are on the ground working around the clock to ensure we get her alive," said Mr Mwivanda, who also confirmed reports that some suspects had been detained in connection with the abduction.
The Standard established that 14 men were being detained in various places after a night operation in Chakama and Galana Kulalu areas on Kilifi's border with Tana River on Wednesday.
Sources said the search had been extended to Tana River County, where Constance was initially believed to have been taken, and Voi in Taita Taveta County.