Mombasa magistrate acquits two Indian students in Sh1.3 billion narcotic trial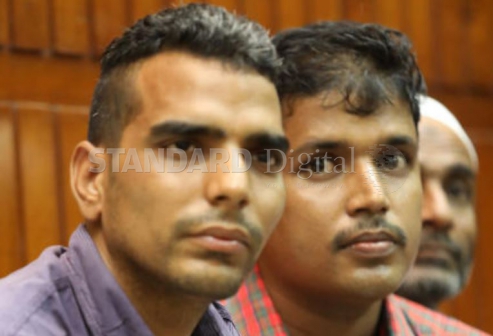 Two Indian students arrested with Sh1.3 billion worth of heroin over three years ago have been acquitted of drug trafficking charges.
Mombasa Chief Magistrate Julius Nang'ea Thursday ruled that the two engineering students aboard MV Bushehr, a ship bearing the Iranian flag, were innocent interns and could not have been aware of the ship's cargo or participated in trafficking the drugs found on board.
The magistrate ruled that the students had no case to answer and placed the other suspects on their defence.
Prabhakara Nair Praveen, Vikas Balwan and seven other foreigners as well as three Kenyans faced two narcotics trafficking charges.
But the Director of Public of Prosecutions (DPP) said Thursday the State wanted the two students held for 14 days as it intended to appeal the judgement.
The two and seven other crew member – six Pakistanis and an Iranian national – were found aboard the vessel carrying 33.2kg of heroin off the Lamu coast.
They were put on trial alongside the three Kenyans.
The nine foreigners were allegedly captured aboard the ship on July 23, 2014, and handed to the Kenya Navy ahead of their trial. The captain of the ship died before he was put on trial.
Prabhakara and Vikas were acquitted after Mr Nang'ea found they were interns who had no control of what was on the ship.
A letter from the Indian High Commission indicates that Praveen and Balwan attended Alpha Marine Service College in New Delhi and were interning at Park Mansion Ship Management Ltd in India.
Thursday, Nang'ea said a letter from the Indian embassy had confirmed that the two students were interns.
The magistrate however ruled that Yousuf Yaqoob, Yakoob Ibrahim, Saleem Muhammad, Bhatti Abdul Ghafour, Baksh Moula, Pak Abdolghaffer, Muhammed Saleh, and Kenyans Khalid Agil Mohamed, Mohamed Osman Ahmed and Maur Abdalla Bwanamaka had a case to answer.