Kenya Maritime Authority lays ground for Sh1.8b complex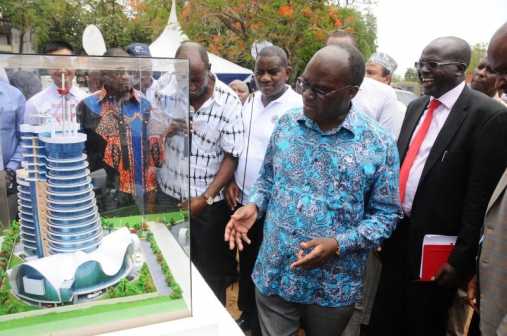 The Government is implementing projects to make the most out of marine resources, Transport Cabinet Secretary James Macharia has said.
Speaking in Mombasa during a groundbreaking ceremony for the Kenya Maritime Authority (KMA) office complex yesterday, Mr Macharia said the building marks a milestone in the authority's development.
"It will host KMA employees, foreign consulates, some government ministries, departments and agencies, as well as the region's pre-eminent maritime professionals," said Macharia, who was flanked by his Principal Secretary Irungu Nyakera.
The CS said the growth of the maritime sector has led to an enlarged mandate for the authority and increased workforce to deliver on the country's extensive maritime agenda.
Acting KMA Director General Cosmas Cherop said the Sh1.8 billion headquarters conveys the authority's recognition of great maritime potential at the Coast and its ability to benefit the country's economy in general.
"It also signifies KMA's commitment to progress Kenya's maritime industry by optimising the country's maritime resources and potential for the socio-economic benefits of all Kenyans," Mr Cherop said.
Mr Nyakera said funds being used in the construction of the new office complex have been sourced locally from KMA's own coffers.
The new office complex being constructed by Epco Builders Limited will have a 15-floor state-of-the-art office block, complete with an observatory level and a roof level featuring a helipad.
The external component of the block will include a bio-digester, parking space and entry and exit gates with a sentry box.