President Uhuru declares war on illegal fishing vessels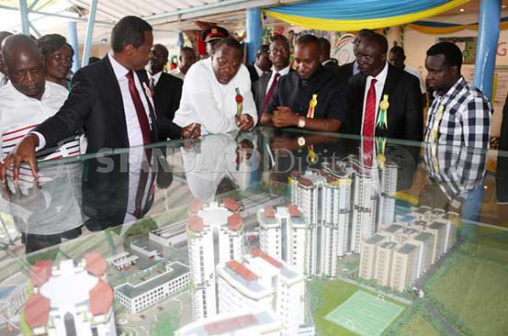 President Uhuru Kenyatta has ordered illegal foreign ships out of Kenya's Indian Ocean territory.
The President said yesterday foreign trawlers and ships continue to operate along Kenya's 200 nautical miles Economic Exclusive Zone (EEZ) and it was time to drive them out. The illegal fishing robs the country Sh10 billion annually.
"The theft of fish by foreign vessels at the country's international waters must be stopped and I direct the Ministry of Agriculture to come up not only with policies and papers but practical programmes to enable the country to tap into the enormous potential of our blue economy," said the President, adding that by next year, foreign vessels operating illegally in Kenya's territorial waters will be driven out.
He said the national government will team up with Coast county governments to purchase modern fishing vessels and construct fish storage facilities.
He said his government will in the next one year focus on the development of the 'Blue Economy', which he termed as the new or next frontier for the country's economic growth.
This means the country will crack down on huge foreign vessels fishing blamed for rampant Illegal Unregulated and Unregistered fishing, which has been a big concern for Coast residents.
Kenya's EEZ has the potential to produce 300,000 tonnes of fish annually valued at about Sh75 billion given the local lacks modern fishing facilities to venture into dip seas.
Speaking in Mombasa during the official opening of this year's Mombasa International Show, Uhuru said that over 14.6 per cent of Coast people face starvation.
He said the national government will do everything to eliminate hunger from the region but challenged county governments to do more given agriculture was a devolved function.
"The cost of living can only come down if we produce food cheaply. Counties should invest in mechanised agriculture and drive the sector from subsistence to commercial farming," he said.
POLITICAL DIFFERENCES
President Uhuru said the national government will partner with Coast county governments to purchase modern fishing vessels for the local fishermen before by next year.
Mombasa Governor Hassan Ali Joho said he will work with the national government in developing the country and dismissed claims that political differences had created a rift between him and President Uhuru.
"We will work together despite our political differences. Your excellence you have been a proponent of the need for politicians to work together regardless of their political affiliation. We (will) team up to develop our country but when time for politics comes, we will all support our parties because that is democracy," said Joho.
Agriculture Cabinet Secretary Willy Bett said the Government had acquired a new ship to patrol its Indian Ocean territory to secure its fish stocks.
The sea patrol vessel which will enhance surveillance along the country's EEZ will be acquired at the cost of sh3.6 billion and is expected to arrive in the country early next year.
In 2014, Kenya commissioned sh.3.5 billion worth RV Utafiti to conduct oceanographic survey along the Kenya's exclusive economic zone.