Passengers in Mombasa's Likoni ferry to be separated to deter sex pests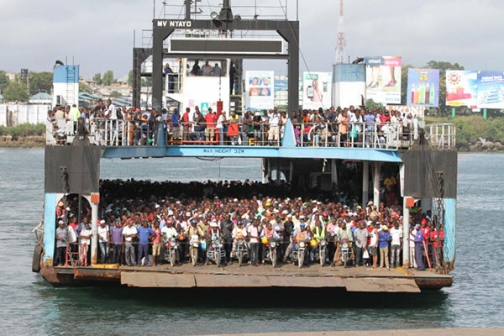 KENYA: The Mombasa County Assembly is planning to keep male and female passengers separate following cases of sexual harassment at the Likoni channel crossing.
The assembly has launched a programme to have men separated from women and children on the Likoni ferries following proposals that have been supported by the national and county governments.
At the same time, the national government has given Kenya Ferry Services (KFS) Sh250 million to install powerful cameras to monitor sex pests and other criminals aboard the vessels.
MCAs took the decision following recent reports that women are being preyed on by sex pests who assault them in the crowded vessels.
Several men have been jailed in the past after they were found guilty of groping or fondling female passengers. One man is serving a three-year jail term after he was convicted of sexually harassing a woman on a ferry.
In another case, a man was beaten by passengers after he tried to kiss a woman on the ferry.
However, during a visit to the channel led by Amir Thoya, the Public Works and Infrastructure Committee warned that separating men and women could lead to congestion at the channel.
VULNERABLE GROUP
Take a quick survey and help us improve our website!
Take a survey
"The purpose of the visit was to ensure the separation of women and children as a vulnerable group to prevent harassment by sex pests," explained Mr Thoya in a report to the county assembly Wednesday.
According to the report, KFS Managing Director Bakari Gowa appreciated that the problem of sexual harassment existed but warned that the separation would pose a challenge particularly when a man and his family are crossing together.
"At the same time, allowing only women and children to board the ferries first would lead to delays in ferry operations and exacerbate the congestion at the Likoni ferry crossing," Mr Gowa warned.
Last year, members of the Parliamentary National Committee on Transport and Infrastructure led by Maina Kamanda were shocked during a tour of the Likoni channel when they heard that sex pests had become a menace.
KFS has since separated women, children, old and sick from able-bodied men to prevent potentially deadly stampedes during the rush to board the vessels.
The committee recommended that members should visit cities with ferry services abroad to come up with workable solutions to improve ferry services.
The Likoni channel, which links Likoni, Mombasa and the south mainland, is currently used by more than 300,000 pedestrians and 6,000 vehicles daily.