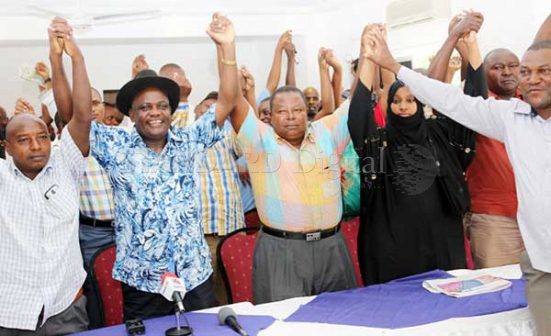 Deputy Governor Hazel Katana yesterday said some of her staff have been withdrawn by the county government. And in a dramatic escalation of souring relations between her and some officials within Governor Hassan Joho administration, some county officers from the Inspectorate Department are said to have stormed her house in Nyali estate and tried to seize her official car. Katana was not at home at the time. Some officials within Joho's government accuse her of having links with Jubilee, a claim she denies. Yesterday, Joho's arch-rival Hezron Awiti rushed to Katana's defence, saying the deputy governor should be allowed to choose who to associate with.
SEE ALSO: Kanu gets team to boost presence in Coast
The Nyali MP said yesterday that "the deputy governor is not an appointee of Joho, she is a partner" and threatened to lead Mombasa residents to Joho's office to demand an end to her alleged harassment. Katana said she did not understand what is happening amid claims that she has been campaigning for the Jubilee candidate in the Malindi by-election Philip Charo. "There is no rift between me and Governor Hassan Ali Joho. We have a cordial working relation to the best of my knowledge," Katana said yesterday. social media Trouble between Katana and the Joho administration began when a picture was circulated on social media showing her with rebel Orange Democratic Movement MP for Kilifi North Gideon Mung'aro in Jilore on February 18.
SEE ALSO: Three killed after car hits motorbike outside city hotel
Some social media posts claimed she had joined Mung'aro to campaign for Charo but she now believes she was set up. Katana claims she became a victim of circumstances when Mung'aro stormed a meeting she was attending and posed for pictures, which were instantly circulated. Katana said she has never campaigned for the Jubilee candidate in Malindi. Her presence at a government meeting to install a chief for Jilore location , she explained, was misconstrued to mean that she had shifted her political allegiance from ODM to Jubilee. "My rural homestead is near where the chief was being installed by Coast Regional Coordinator Nelson Marwa, and it happened that I was invited to greet the public by Deputy County Commissioner Celina Maitha,'' she said. Katana added that she told the public to exercise their democratic right in the forthcoming by-election and elect a leader of their choice.
SEE ALSO: Litigants to benefit from free internet
"I must admit that Jubilee supporters later on turned the chief's installation into a party affair. Later, I was shocked to see my picture circulated on social media insinuating that I had jumped ship and was actively campaigning for the Jubilee candidate," she told The Standard on phone. She asked whether it is a crime to mingle with Jubilee supporters, and wondered if she should cut links with nominated senator Emma Mbura, who is her relative and a Jubilee die-hard.