Nairobi Senator Mike Sonko, Mombasa Governor Hassan Joho clash over President Uhuru's visit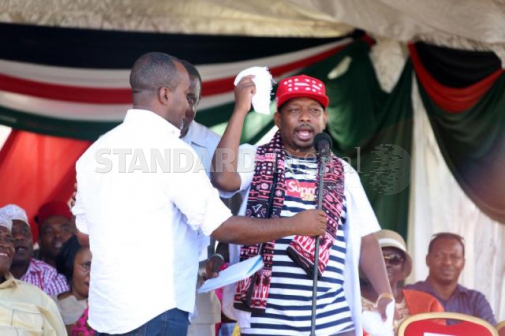 Mombasa Governor Ali Hassan Joho and Nairobi Senator Mike Sonko yesterday clashed publicly after the latter accused opposition politicians of undermining President Uhuru Kenyatta.
Trouble started after Mr Joho accused the President of sidelining him during his Coast tour adding that local politicians would not take directives from the Jubilee administration.
"Mr President it is not fair that since you came to Mombasa 16 days ago I only get to read about you in the newspapers. I want to say this with a lot of humility that as the county government even if we are in the Opposition we need to discuss with the government and not to be directed," he said.
Joho claimed he was not allowed to reach the President and said he would not be cowed to stop campaigning for his party. Joho is ODM's Deputy Party leader.
But Mr Sonko, who was invited by the governor to address residents, lashed out at him and opposition leaders in Mombasa accusing them of disrespecting and blackmailing the President.
"Joho I tell you that you must respect the President. You cannot continue to blackmail the President using the land problems and corruption. If it is land grabbing, Mama Ngina gardens has been grabbed by Joho's friend," said Sonko.
He claimed he knew the governor's allies who had grabbed public utilities in Mombasa.
The two who are known to be political rivals clashed during the issuance of title deeds to squatters of Waitiki land at Shika Adabu grounds in Likoni, Mombasa which was launched by the President.
Joho and a section of MPs, who have been conspicuously absent from President Kenyatta's functions since he arrived in Mombasa on December 24 last year, said he was never invited.