Tension at Mombasa Port as ship seized over "dangerous cargo"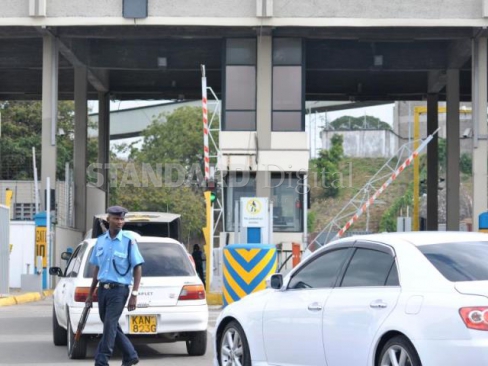 A contingent of specialised security forces on Thursday night seized a ship transporting "dangerous cargo" at the port of Mombasa.
Kenya Ports Authority (KPA) Managing Director Gichiri Ndua and other top port managers including senior port police were caught unawares as the elite squad from Kenya Defence Forces (KDF) and Recce Squad moved into the port to detain the ship registered in Norway.
The port managers were locked out before the facility was sealed off. Coast regional Police Commander Francis Wanjohi said the operation christened "stealth operation" was conducted by an elite squad and was a precautionary measure to ensure success.
"We received intelligent report from an international private security firm that the vessel was carrying very dangerous cargo and that is why the elite security team stormed the port under a stealth operation," Wanjohi told the press yesterday.
He did not, however, elaborate what the said "dangerous cargo" entailed but sources indicated it could be narcotics and weaponry.
Yesterday, KDF and Recce Squad condoned off berth 13 where the suspect ship — MV Hoegh Transporter docked on Thursday. Kenya has sustained a vicious fight against narcotic trade and President Uhuru Kenyatta has maintained that any vessel found with drugs would be destroyed. In August 28, 2014, Uhuru supervised the destruction of Iranian flagged MV Bushehr vessel with 377 kilograms of heroin worth Sh1.3 billion.
On August 14, this year, the military also blew up a Singaporean registered luxury yacht off the Mombasa coast which police said was found stuffed with narcotics.
Anti-narcotics detectives estimated the heroin seized on the yacht, MV Baby Iris, to be worth Sh20 million.
MV Hoegh Transporter, detained by the elite forces yesterday, however, is one of the biggest car carriers with gross tonnage of 57,757 and Deadweight of 16,747 compared to the vessels destroyed earlier.
Kenya Ports Authority 14 days shipping list posted on its website indicate that the vessel was ferrying 156 vehicles that were to be offloaded in Mombasa. Meanwhile, a source at the port, said all trucks aboard the ship were labelled UN and that the ship came in from Mumbai, India and that it was under tight security.
Inspection and verification of the cargo on the ship was still going on yesterday and officials from the Government Chemist and Anti-Narcotic officers were called in to assist in the investigation.
The Standard on Saturday also established that the vessel had visited Mombasa in May and March this year and that the security team from several countries were monitoring its activities.
Yesterday, top security officers in Mombasa were holed up in a daylong meeting at the port as inspection and verification went on at the ship.
According to Marine Traffic, a website that monitors the movement of ships, MV Hoegh left Mumbai on September 9. It is believed that on the same day the Indian authorities shared the intelligence with their Kenyan counterparts.
On the same day, September 9, Inspector General of Police Joseph Boinnet and National Intelligence Services Director Philip Kameru made an impromptu visit at the port where they held a meeting with Ndua and Kenya Revenue Authority Commissioner General John Njiraini. Mr Ndua then confirmed the meeting but declined to talk about anything they discussed. "I met Inspector General Joseph Boinet but I cannot discuss with you what we talked" said Ndua then.
Yesterday, KPA Corporate Affairs Manager Bernard Osero, however, said Ndua and other top KPA managers were not involved in the exercise. He said they were all locked out of the port on Thursday night.
"It was a government operation carried out at high level. We do not know what it is all about because even our MD was locked out," said Osero.
Maritime analyst Andrew Mwangura said the ship came in from Mumbai eight days ago to Mombasa. He said given that the vessel was a Roll-on/roll-off (RORO) ship it was not possible to stop it at the high seas for inspection.
"Ships charted by UN are known to be used to carry illegal cargo to Africa because they are not subjected to stringent verifications and inspection process at the Africa ports. But I highly doubt if the crew of the ship were involve because the company pays very well and crew cannot risk," said Mwangura.
He said crew members of the vessel were Norwegian and Indian citizens but we could not establish whether they were detained.
Netherlands to pump more money in SMEs
The Dutch Government has urged financial institutions in Kenya to put in more investment capital in small and growing businesses. Netherlands Deputy Ambassador to Kenya Marielle Geraedts said her country would invest in SMEs with the potential to attract international markets.